A Little Lunch Music: Brahms Horn Trio
Curated by City Recital Hall and Kathryn Selby AM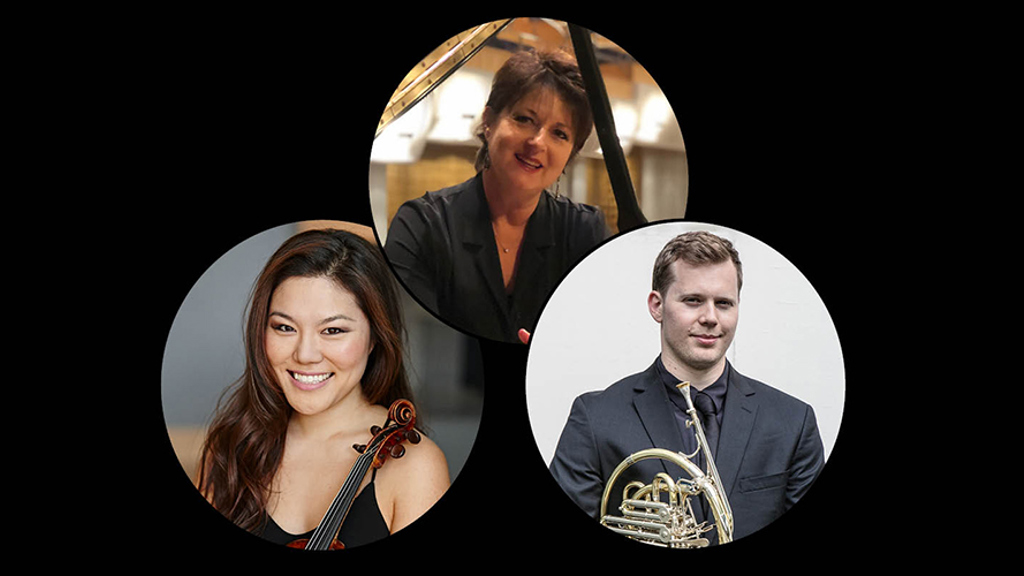 Brahms was a master of drawing sonic richness and emotional diversity from the small performing forces of chamber ensembles. In a combination not often heard in chamber music, Brahms' Horn Trio shows how well the horn, violin and piano resonate with one another in lyrical and dramatic expression. So strange was this combination that an early critic refused to accept it as a legitimate piece of chamber music!
Reminiscent of the German landscapes of the Black Forest, where Brahms wrote the piece, the Romantic warmth of the trio is also enveloped with grief from the recent loss of his mother, Christiane.
In this special concert, Kathy Selby on piano will be joined by Susie Park on violin and Nick Mooney on French horn.
---
Other events in the A Little Lunch Music series:
An Enchanted Afternoon – Tue 16 Feb 12.30pm
Figaro for Winds - Australian National Academy of Music – Thu 25 Mar 12.30pm
Carnival of the Animals – Tue 20 Apr 12.30pm
Schumann's Piano Quartet – Fri 7 May 12.30pm
The James Morrison Quartet – Tue 15 Jun 12.30pm
Jacqui Dark is Alive and Well Living in Newtown – Tue 20 Jul 12.30pm
Ensemble Apex – Thu 5 Aug 12.30pm
Slava and Sharon Grigoryan - Our Place – Mon 20 Sep 12.30pm
Joseph and James Tawadros - Music of the Oud – Tue 19 Oct 12.30pm
The Kate Wadey Quartet – Tue 23 Nov 12.30pm
A Spotless Rose - Sydney Philharmonia Chamber Singers – Thu 16 Dec 12.30pm   
---
Visitor Safety Information
City Recital Hall can increase audience capacity to 75%. As a result, please bring and wear a mask while at the venue. 
As a COVID-19 tracing protocol, we will require all patrons who enter the venue to check in via QR code through the Service NSW App at the entrance. All data will be stored securely and will be deleted after the mandatory 28 day period. 
Before you visit the venue, please download the Service NSW App to ensure your arrival at the venue is as smooth as possible.
Before you arrive at City Recital Hall, familiarise yourself with our new venue protocols here.
Please do not attend this event if you are feeling unwell. If you have tickets and are no longer able to attend:
View our updated Terms & Conditions 
Visit www.health.gov.au for the latest advice and information about COVID-19
Contact the Coronavirus Information Line 1800 020 080 for any health enquiries
Details correct at the time of publication.
Brahms

Trio for Piano, Violin, and Horn in E flat major, Op.40

Susie Park

Violin

Nick Mooney

Horn

Kathy Selby

Piano