Contact us
Street address

We will be closed from 5pm 21 December to 9am 7 January 

2 Angel Place, Sydney
NSW 2000, Australia
Deliveries via Stage Door

Postal address

GPO Box 3339
Sydney NSW 2001
Australia

Box office

We will be closed from 5pm 21 December to 9am 7 January 

02 8256 2222
Monday-Friday,
9am-5pm and from 2 hours prior to all performances

Administration

We will be closed from 5pm 21 December to 9am 7 January 

Tel: 02 9231 9000
Monday-Friday,
9am-5pm
National relay service
If you are deaf, or have a hearing or speech impairment, you can contact our Box Office through the National Relay Service and give them the City Recital Hall number - 02 8256 2222.

For more information, visit relayservice.gov.au
For more information about accessibility at City Recital Hall, click here.
ABN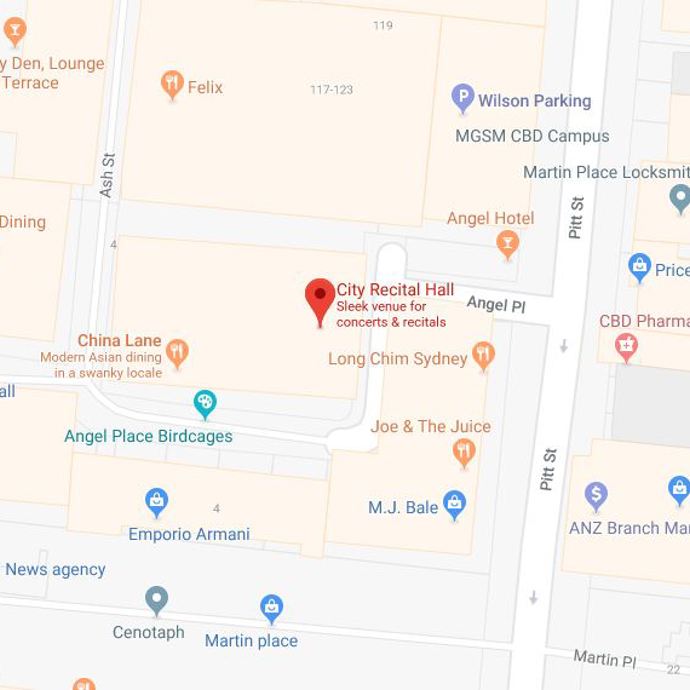 Send us a message
PLEASE NOTE From 5pm 21 December to 9am 7 January the admin office will be closed. This inbox will not be monitored during this time and the phones will be switched off. We will however respond to you as soon as we can from 9am 7 January.