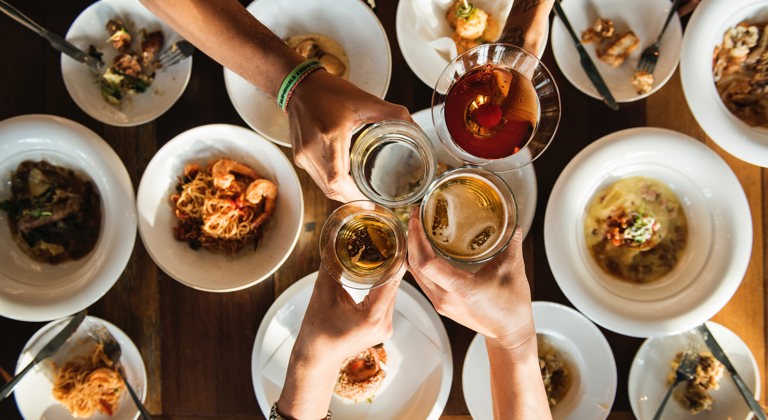 Eating & Drinking
Enjoy a variety of food and drink options both at the Hall and in the surrounding laneways.
Dinner Boxes
Dinner Boxes from neighbouring restaurants Long Chim and Indu are now available to order at evening performances at City Recital Hall. Dinner boxes can be purchased from our ground floor foyer bar and will be delivered straight to you in the foyer. Orders close approximately 40 minutes prior to the performance start time.
Sample menu can be viewed on this page. Please note that the menu is subject to change and you can view the current menu in our ground floor foyer on the night.
Enjoy a drink and a snack at the Hall before your show or at interval. Our bars open 90 minutes prior to the start of performances, offering a selection of light refreshments and alcoholic and non-alcoholic drinks.
Light Meal Options
Our Lobby Bar is stocked with a range of light meal options, so you no longer need to worry about where you can get a quick meal before the show. The range varies, but can include:
Sushi boxes
Salads
Wraps
Muffins
Banana Bread
Sandwiches (popular favourites!)
Drinks
Our bars stock a wide range of wines, beers and spirits, as well as a selection of non-alcoholic beverages. You can now pre-order your interval drinks from any bar prior to the show and collect them from the ground level bar at interval.
ENJOY A NIGHT IN THE LANEWAYS
Angel Café & Bar
Open for breakfast, lunch and dinner (dinner on show nights only), Angel Café Bar offers an a la carte menu for lunch and dinner accompanied by a selection of wines and spirits. It's located right next door to City Recital Hall in Angel Place. 10 Angel Place Bookings: 02 9232 0188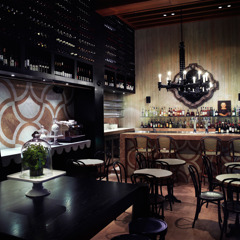 Ash St. Cellar
A modern European-style bistro intimately tucked away behind ivy with classic café chairs and Parisian 'plein aire' seating creating an ideal hideaway from the hustle and bustle of the CBD. Treat yourself to something special on your next night out with their meditarranean-inspired share plate menu for $55, available from midday through to 10pm. 1 Ash Street Bookings: 02 9240 3000 or merivale.com.au/ashstcellar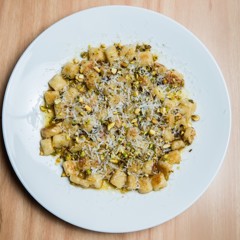 Bacco Osteria
Bacco Osteria has a strong focus on seasonal produce, with an aim to source locally, using organic and sustainable goods wherever possible. Bacco believes in a true Italian artisanal approach, making bread, pasta and soft cheeses daily. 1 Angel Place Bookings: 02 9235 3383 or bacco.com.au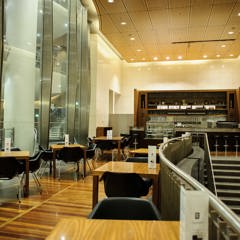 Bar Cupola
Bar Cupola is open for pre-concert dinners on selected evenings that coincide with performances at City Recital Hall and is open for dinner two hours prior to concerts. The connecting doors from Level 1 of City Recital Hall are open one hour prior to performances on selected evenings. Gallery Level, Angel Place Office Tower, 123 Pitt St, Sydney Bookings essential: 02 9221 3377 or barcupola.com.au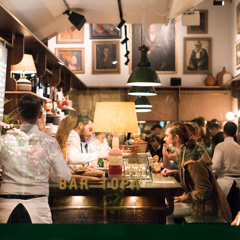 Bar Topa
An intimate spot to gather with friends, stop by our tapas and pintxos bar for an aperitivo on the way to dinner or the theatre. General enquiries is 02 9114 7368 or merivale.com/venues/bartopa.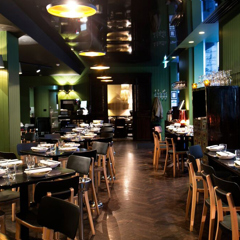 China Lane
Tucked in Angel Place beneath the 'forgotten songs' birdcage installation, China Lane serves modern Asian cuisine focusing on fresh, seasonal produce with traditional flavours and contemporary techniques. City Recital Hall concertgoers can enjoy a $45 pre-theatre banquet designed to share with a minimum of 2 persons (whole table only). Concert tickets must be presented on arrival. 2 Angel Place Bookings: 02 9231 3939 or chinalane.com.au
Felix
An elegant bistro serving classic French fare tucked in Ash Street laneway, just around the corner from City Recital Hall. Awarded One Hat in the 2017 and 2016 Sydney Morning Herald Good Food Guide Awards, Felix will wine and dine you with either a $50 two course or $60 three course prix fixe menu available between 5:30pm and 6:30pm every day. 2 Ash Street Bookings: 02 9240 3000 or merivale.com.au/felix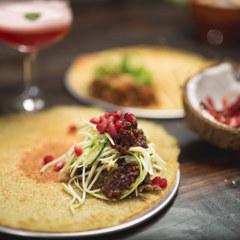 Indu
INDU is a celebration of village culture, flavours and local hospitality. A place where eastern mysticism meets western curiosity. 350 George Street (entry via Angel Place) Bookings: 02 9223 0158 indudining.com.au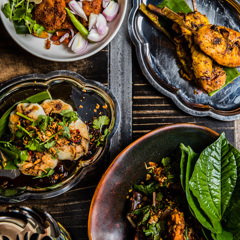 Long Chim Sydney
The real thai food of modern Bangkok by chef David Thompson, with bar serving signature thai cocktails. Long Chim's pre- and post-theatre $45 menu is offered between 5pm and 6.30pm and after any performance. Corner of Pitt Street and Angel Place with (entrance on Pitt Street) Bookings: 02 9223 7999 or longchimsydney.com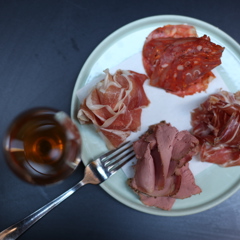 Mercado
Mercado pays homage to Moorish, Spanish dinning with understated detail that is warm and grand. Mercardo offer a $55 per person pre-theatre menu for two plus people featuring all of the the resturant's favourites. Booking times are best made for 5.30pm and 5.45pm allowing time for dining and a departure between 7pm and 7.15pm. 4 Ash St Bookings: 02 9221 6444 or mercadorestaurant.com.au