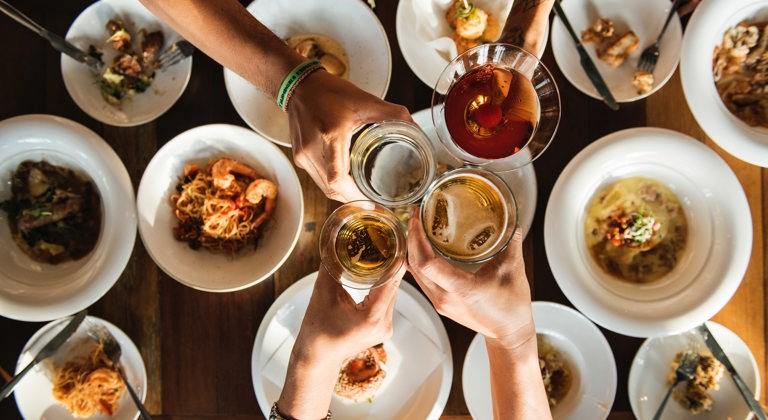 Eating & Drinking
Enjoy a variety of food and drink options both at the Hall and in the surrounding laneways.
Drinks
Please note, drinks are allowed in the auditorium at the discretion of each hirer. Please see front of house or bar staff for any information on the night. If drinks are allowed in the auditorium they will need to be decanted first and bar staff can also assist with this.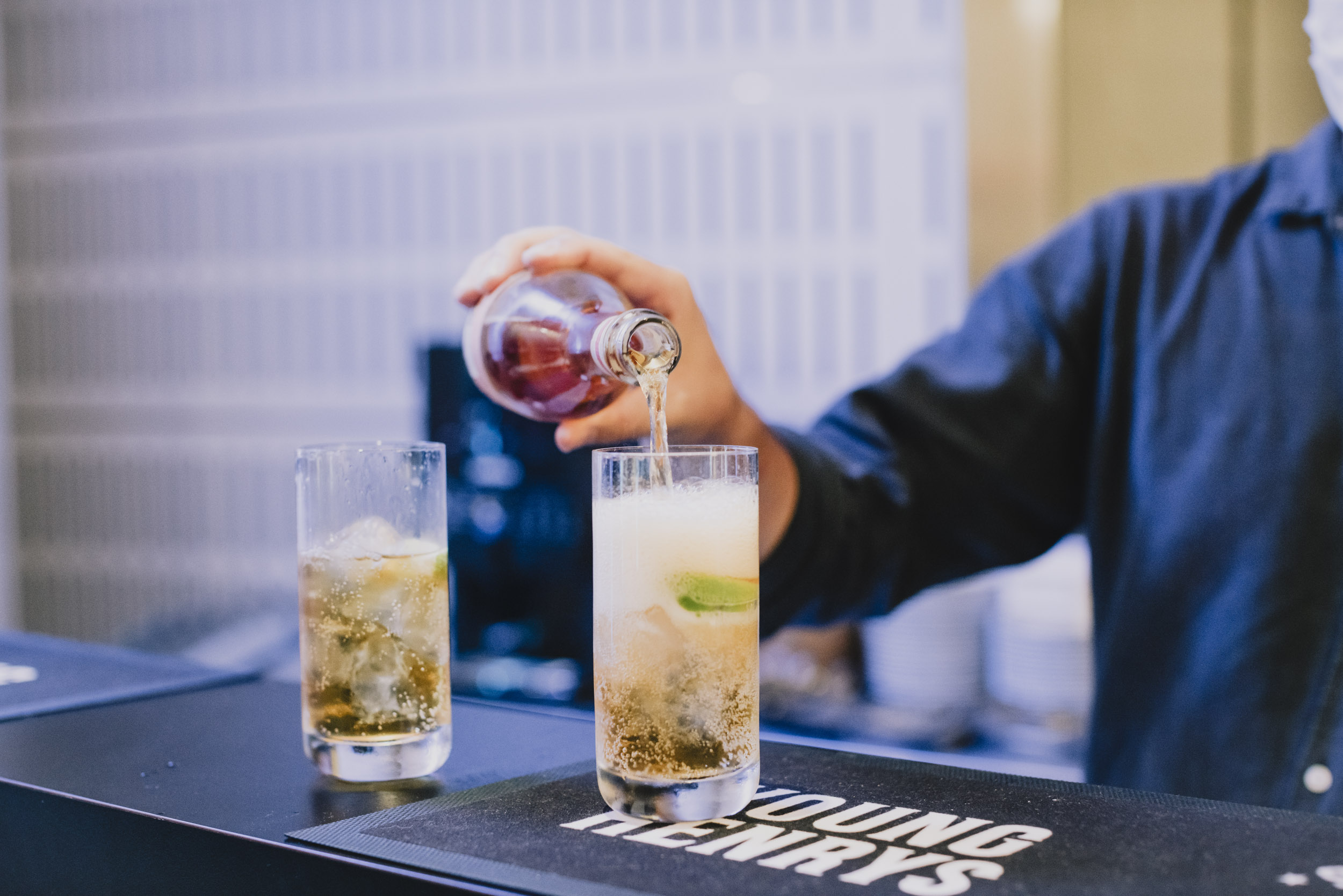 ENJOY A NIGHT IN THE LANEWAYS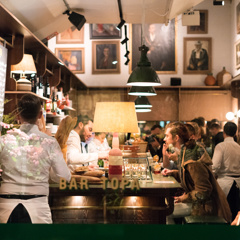 Bar Topa
An intimate spot to gather with friends, stop by our tapas and pintxos bar for an aperitivo on the way to dinner or the theatre.

4 Palings Lane
General enquiries: 02 9114 7368
merivale.com/venues/bartopa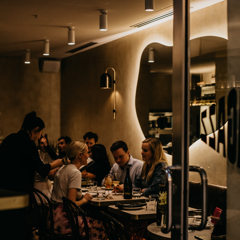 Ragazzi
Much like in the kitchen, the 250 bottle-heavy wine list at Ragazzi highlights both classic and contemporary Italian winemaking, while paying full respect to the growing use of native Italian varietals here in Australia.
3 Angel Place 
Bookings: 02 8964 3062
ragazziwineandpasta.com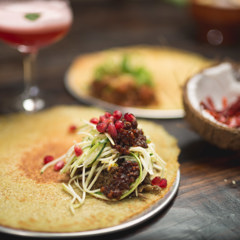 Indu
INDU is a celebration of village culture, flavours and local hospitality. A place where eastern mysticism meets western curiosity.
350 George Street (entry via Angel Place)
Bookings: 02 9223 0158
indudining.com.au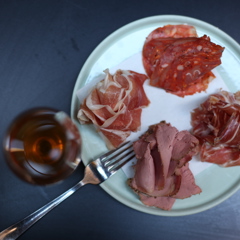 Mercado
Mercado pays homage to Moorish, Spanish dinning with understated detail that is warm and grand.
4 Ash Street
Bookings: 02 9221 6444
mercadorestaurant.com.au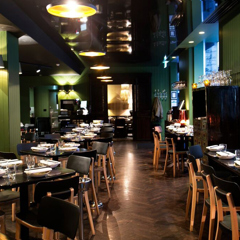 China Lane
Tucked in Angel Place beneath the 'forgotten songs' birdcage installation, China Lane serves modern Asian cuisine focusing on fresh, seasonal produce with traditional flavours and contemporary techniques.
2 Angel Place
Bookings: 02 9231 3939
chinalane.com.au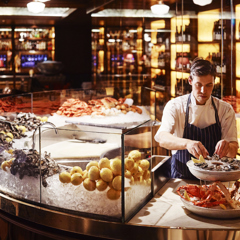 Felix
An elegant bistro serving classic French fare tucked in Ash Street laneway, just around the corner from City Recital Hall.
2 Ash Street
Bookings: 02 9240 3000
merivale.com.au/felix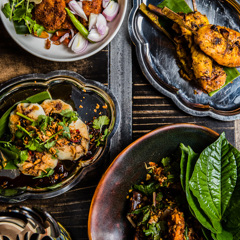 Long Chim Sydney
The real Thai food of modern Bangkok by Chef David Thompson, with a bar serving signature Thai cocktails. 

Corner of Pitt Street and Angel Place with (entrance on Pitt Street)
Bookings: 02 9223 7999
longchimsydney.com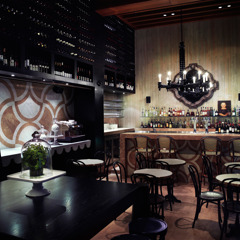 Ash St. Cellar
A modern European-style bistro intimately tucked away behind ivy with classic café chairs and Parisian 'plein aire' seating creating an ideal hideaway from the hustle and bustle of the CBD.

1 Ash Street
Bookings: 02 9240 3000
merivale.com.au/ashstcellar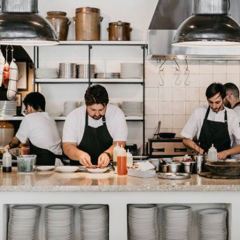 Bar Totti's
The perfect place to stop by for a wine and a bite to eat. There are plenty of house-made antipasti to choose from, including sardines, scallop crudo, marinated peppers and burrata, as well as Totti's signature bread, wood-fired to order.
330 George Street, Sydney NSW 2000
General enquiries: 02 9114 7379
merivale.com/venues/bar-tottis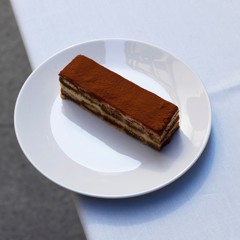 Restaurant Leo
Restaurant leo is a refined example of Italian dining. Created by Federico Zanellato and Karl Firla of LuMi and Oscillate Wildly. leo is about tradition with a current interpretation.
1 Angel Place
Bookings: 02 9235 3383
restaurantleo.com.au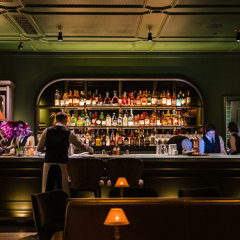 Little Felix
Tucked alongside Felix Restaurant, a French-style cocktail bar with a moody interior and bartenders who know exactly how you like your drink. Drink champagne and wine poured from magnum bottles, and cocktails inspired by early 20th century Parisian hotels as you catch up over cheese, charcuterie and truffle tartines.

2a Ash Street
Enquiries: 02 9114 7372 or
merivale.com/venues/little-felix