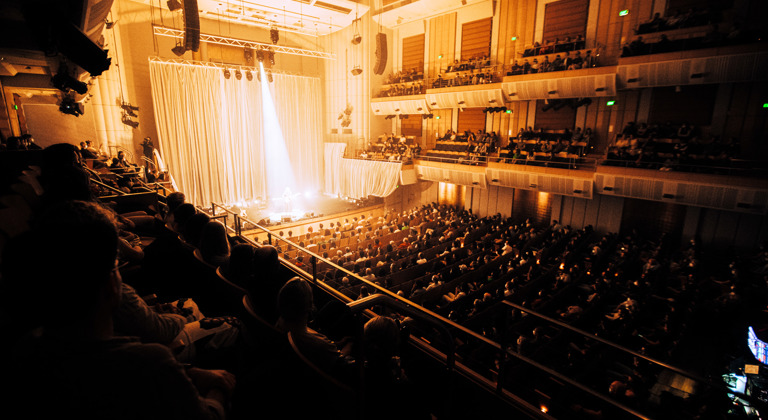 COVID-19 
City Recital Hall Terms and Conditions have been updated in response to COVID-19. The following new conditions apply with immediate effect.
Cancellations, Refund and Resale
If you or a member of your party are unwell and are therefore no longer able to attend an event, you will be entitled to a full refund (including booking fees) without the need for a medical certificate for tickets purchased from the City Recital Hall Box Office. Please contact [email protected] prior to the event.
Conditions of Entry 
Ensuring the health and wellbeing of our patrons and staff is our top priority. Therefore, if you are unwell, we ask you do not come to the venue or if you are presenting symptoms that may place others at risk, you will be denied entry.
City Recital Hall is a COVID Safe Venue and will take reasonable measures to keep everyone in the venue safe through regular cleaning, monitoring social distancing and contact tracing. However, there is still a risk of transmission of COVID-19. Therefore, by entering the venue, you and your party acknowledge and accept this risk.
If you or a member of your party are late, you will be seated towards the back of the auditorium at the discretion of management and will not be able to sit with the rest of your party.
If you book tickets to an event that is cancelled due to COVID-19 restrictions, please be assured that you will be given a full refund (including booking fees). Please ensure your account details are up-to-date.
City Recital Hall General Terms and Conditions for Ticket and Attendance
Tickets sold or issued by City Recital Hall are subject to the City Recital Hall Limited Terms and Conditions of Sale and the Live Performance Australia (LPA) Ticketing Code of Practice.
The LPA sets out a code of conduct for the sale of tickets to live events, including consumer rights. This code of conduct can be obtained by contacting Live Performance Australia here. 
By purchasing a ticket or attending an event, you agree to abide by these terms and conditions. This obligation extends to you purchasing a ticket on behalf of, or supplying a ticket to, someone else.
Ticket Purchase 
Tickets are only valid if purchased through the City Recital Hall Box Office (in person at 2 Angel Place, by telephone, or online at www.cityrecitalhall.com) or an authorised agent.

You can contact the City Recital Hall Box Office to confirm if a ticket seller is an authorised agent. Tickets purchased from an unauthorised agent or re-seller may be cancelled without notice and the ticket holder may be refused admission to the event.

All prices are displayed in Australian dollars.

A transaction fee may apply to your ticket purchase. You will be notified of all applicable fees prior to purchase.

We may impose a maximum ticket limit for each Event. We may cancel or refuse to accept orders that exceed the ticket limit.

Your ticket may be subject to additional booking terms and conditions, that will be notified to you prior to purchase.

Tickets will only be made available (including by delivery) following full and cleared payment.

Lost, stolen or missing tickets to events may not be replaced. We may charge an administration fee to issue replacement tickets and may require proof of identity and purchase prior to issuing the replacement tickets.

Unauthorised duplicate tickets will be refused entry to the Event.

Prior to purchasing a ticket through the City Recital Hall website, you may be required to register for a user account and to nominate an email address and password for your account. You are responsible for your use of the City Recital Hall website and all transactions conducted using your account.

All bookings are subject to availability.

Adequate time must be allowed for the collection of tickets on arrival at the venue. City Recital Hall does not accept responsibility for any delays that may be encountered at the Box Office prior to an event.

These Terms and Conditions prevail in the event of any inconsistency with the terms and conditions of any authorised agent.

Cancellations, Refund and Resale

Once purchased, your ticket(s) and any transaction fees and charges will not be refunded or exchanged, except as provided in the Live Performance Australia Ticketing Code of Practice and Australian Consumer Law.

Tickets must not be resold or offered for resale contrary to applicable New South Wales laws. If a ticket is resold for more than 110% of the original purchase price (including transaction fees), the ticket may be cancelled without notice and without refund or exchange, and the ticket holder may be refused admission.

City Recital Hall is not responsible for refunding tickets purchased from unauthorised agents or re-sellers.

City Recital Hall will take reasonable steps to notify ticket holders of an Event cancellation or rescheduling, however, we cannot guarantee that ticket holders will be informed prior to the starting time of the Event.

Should the Event be cancelled or rescheduled, you may be entitled to a refund as provided in the Live Performance Australia Ticketing Code of Practice. To the extent permitted by law, neither City Recital Hall nor the Presenter is responsible for any expenses incurred by you, for example, cost of travel including car parking, child care and accommodation if the Event is cancelled.

Variations to Events 

The Presenter reserves the right to add, withdraw or substitute artists and/or vary advertised programs, prices, seating arrangements (including ticket categories) and total tickets available for sale at any time.

Conditions of Entry 

Admission to an Event may be refused if you are unable to produce a valid ticket, regardless of age.

Persons under the age of 13 (Child) must be accompanied by a separately ticketed adult.  That separately ticketed adult will be held responsible for the behaviour and actions of that Child. 

By attending the Event, you also agree to the conditions of entry of the place at which the Event is being held (Venue). You may be refused entry or required to leave the Event and the Venue if you do not comply with the Venue's conditions of entry, including if you are intoxicated, behaving in an aggressive or disruptive manner, and if you compromise the health, safety and wellbeing of City Recital Hall staff, Venue staff or other visitors. Tickets will not be exchanged or refunded in these circumstance, unless required by law.

The right of admission is reserved by management. Latecomers may not be admitted until there is a suitable break in performance. In some cases, latecomers may not be admitted at all. Tickets will not be exchanged or refunded in these circumstances, unless required by law.

Cameras, video, and/or audio recorders of any kind may not be used in the auditorium, unless otherwise advised.

Normally, no food and drink may be consumed in the auditorium, unless otherwise advised.

Umbrellas, prams, backpacks, larger bags and other items that may be hazardous or restrict the movement of visitors may not be permitted into the Venue or may need to be cloaked, depending on the nature of the Event and relevant circumstances.

Other items that are prohibited inside the Venue include, but are not limited to: alcohol purchased from outside the Venue; offensive signs or clothing, laser pointers; helium balloons; and any other items that could present a safety hazard to others or interfere with the performance.

Mobile phones, pagers and similar devices must be set to silent or switched off whilst in the auditorium.

City Recital Hall reserves the right to record, broadcast or simulcast any Event at City Recital Hall. 

Photography and Recordings 

If you are photographed, filmed or recorded whilst attending an Event, you consent to City Recital Hall or third parties appointed by City Recital Hall photographing, filming and recording you.  City Recital Hall or third parties appointed by City Recital Hall can broadcast, publish, license and use any photographs, film, recordings and images of you without compensation.  City Recital Hall, the third parties and anyone acquiring from them a right to use the material are not liable to you in any way for its use.

Closed circuit television (CCTV) is used throughout City Recital Hall.

Privacy 

By purchasing a ticket, you consent to the collection, use, disclosure and handling of your personal information as detailed in City Recital Hall's Privacy Policy which is available here.

This may include the disclosure of your personal information by City Recital Hall to the Presenter or Venue (when City Recital Hall is acting as the authorised agent for that Venue). The Presenter and/or the Venue will collect, use, disclose and handle your personal information in line with their own privacy policies, which you may obtain from the Presenter or the Venue.

Feedback and Complaints 

City Recital Hall values feedback as it assists us to improve our customer service to visitors, clients and audiences. You can provide your comments by completing our online form at www.cityrecitalhall.com/contact-us or writing to us at

City Recital Hall
GPO Box 3339
Sydney NSW 2001

Complaints and feedback will be handled in accordance with our complaint handling policy and procedure, which is available on request.

Liability 

City Recital Hall sells and issues tickets for our own Events, as well as acting as an authorised agent for the sale and issue of tickets for organisation(s) which manage, produce, promote and present Events (Presenter). City Recital Hall has no control over, or liability for, the performance of the event by the Presenter. All ticketing complaints and claims, and your legal rights, are against the Presenter, except where City Recital Hall is at fault or where you have a legal right against City Recital Hall.

To the extent permitted by law, City Recital Hall and/or the Presenter will not be liable for any loss, damage, injury, delays, additional expenses or inconvenience arising as a result of your attendance or non-attendance at the Event.

To the extent permitted by the law, you release the City Recital Hall (including its directors, officers, employees, consultants, contractors, agents and volunteers) from any liability for any damage, loss, liability or injury you may suffer in relation to your attendance at a Venue, how so ever caused, including due to any negligence or other act or omission of City Recital Hall.

You agree to compensate City Recital Hall for any damage, loss, liability or injury City Recital Hall may suffer as a result of your wilful, reckless or negligent acts or omissions at a Venue.

You acknowledge that you are responsible for your own property during attendance at any Event.

General

We may amend these Terms and Condition by updating them on the City Recital Hall website. Any variations become effective on the day immediately after their first publication on our website and apply to any purchases made after that date.

These Terms and Conditions are governed by the laws applying in New South Wales, Australia.
City Recital Hall COMPETITION TERMS AND CONDITIONS
To view City Recital Hall Ltd Competitions Terms and Conditions click here.
Image: Jess Gleeson, Singular Voices: Julia Jacklin, City Recital Hall, March 2022