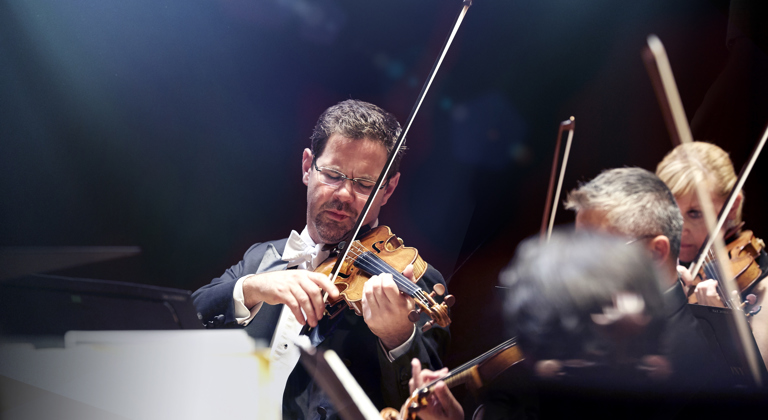 Sydney Symphony Orchestra
ARTISTIC DIRECTOR: DAVID ROBERTSON
Founded in 1932 by the Australian Broadcasting Commission, The Sydney Symphony Orchestra (SSO) has evolved into one of the world's finest orchestra as Sydney has become one of the world's great cities. The SSO performs in venues throughout Sydney and regional New South Wales, and international tours to Europe, Asia and the US have earned the orchestra worldwide recognition for artistic excellence.
2020 Season
Elisabeth Leonskaja in Recital
Mon 23 March 7pm, 2020
Elisabeth Leonskaja is one of those rare musicians who seen to transcend their time and place: she is a performer for the ages, and one of the last of the great Russian school. With a performance style dubbed 'magisterial' by The Times, London, Elisabeth Leonskaja is devoted to getting to the very heart of the music. With authority and insight, the 'Russian lioness' performs Beethoven's transcendent final trilogy of piano sonatas.
Handel and Telemann - Fountains and Fireworks
Wed 1 - Thu 2 April 7pm, 2020
Handel's procession of grand overtures and sprightly dances are everything that's best about the Baroque, where magnificence and exuberance meet. Handel's contemporary Telemann wrote music for an aquatic celebration in Hamburg. His suite is a pageant of watery mythological beings.
Early music expert David Stern conducts Handel's hits in the gilded intimacy of City Recital Hall.
Jonathan Biss in Recital - Beethoven's Appassionata
Mon 18 May 7pm, 2020
Dynamic young American artist Jonathan Biss will release the last of his cycle of all of Beethoven's piano sonatas in 2020, the end of a nine-year journey.
Beethoven composed sonatas throughout his life and they reflect his moods and obsessions, covering immense 'emotional territory'. As you'll hear in this selection Beethoven is volatile, tender, funny and raging.
Rebel, Gabrieli and Vivaldi - The Italian Baroque
Wed 10 - Thu 11 June 7pm, 2020
The riches of the Venetian empire weren't just silk and gold; pioneering composers Monteverdi and Gabrieli made precious music that resounded in San Marco. Vivaldi's flamboyant concerti delighted even J.S. Bach. This 'Italian style' echoes in French composer Rebel's audacious Les élémens.
Conductor Benjamin Bayl, a specialist in this repertoire, is our guide to Venice and beyond.
Mozart and Beethoven - Drama and Romance
Web 19 - Thu 20 August 7pm, 2020
Mozart's Symphony No.40 is one of the icons of classical music. The urgency and drive of the opening bars have transfixed music lovers for centuries. Beethoven's gem-like Romances see our guest director spinning out elegant arabesques. Lyrical and gentle or forcefully dramatic, these song-like musical moments are rhapsodic showcases for Henning Kraggerud.
BOOK NOW
Cédric Tiberghien in Recital
Mon 14 September 7pm, 2020
This recital is a variation on the theme of Beethoven devised by the brilliant pianist Cédric Tiberghien. His refinement of sound and searching intelligence also equip him for the mercurial beauty of the fantastical flights of Schumann including the rarely-heard gem of Etude-Variations on a refrain from Beethoven's Seventh Symphony, as well as the bittersweet beauty of the Geistervariationen. Beethoven is here too, of course, riffing on popular hits of his day.
BOOK NOW
Tchaikovsky and Elgar - A Serenade for Strings
Wed 7 - Thu 8 October 7pm, 2020
The melodic gifts of Elgar, Debussy and Tchaikovsky are on extravagant display in these works, deservedly among their most beloved pieces.
Elgar's Introduction and Allegro is a meeting of powerful sonority and the warmth of his expansive melodies.
Debussy's Danses features the harp at its most celestial and Tchaikovsky's Serenade showcases the rich resonance of string orchestra to grand effect.
BOOK NOW
The Complete Brandenburg Concertos - Directed by Erin Helyard
Fri 23 - Sat 24 October 8pm, 2020
The Six Brandenburg Concertos are among the finest examples of human creativity, each concerto is a unique window into Bach's vast imagination.
Acclaimed Australian harpsichordist Erin Helyard guides the Sydney Symphony Orchestra through each of the six spectacular worlds of Bach's instrumental magnum opus.
BOOK NOW
Lauren Zhang in Recital - The Young Virtuoso
Mon 26 October 7pm, 2020
Lauren Zhang won the 2018 BBC Young Musician of the Year competition at 16 years old, astonishing judges and audience with her preternatural musical intelligence and flawless technique.
Zhang's recital demonstrates her gift for finding the musical core of virtuoso barnstormers like Liszt's splashy Rhapsodie Espagnole and the iridescent textures of Ravel's Gaspard de la nuit.
BOOK NOW
Christian Tetzlaff performs Bach - Complete Sonatas and Partitas
Sun 22 November 3pm, 2020
Ask any violinist – conquering Bach's sonatas and partitas for solo violin is a life's work.
To perform them in full is a monumental feat of physical endurance and musical prowess.
Christian Tetzlaff brings an intimate understanding to these works and delivers Bach's genius with every note creating a truly unmissable musical experience.
BOOK NOW