Genevieve Lacey & Marshall McGuire
Musica Viva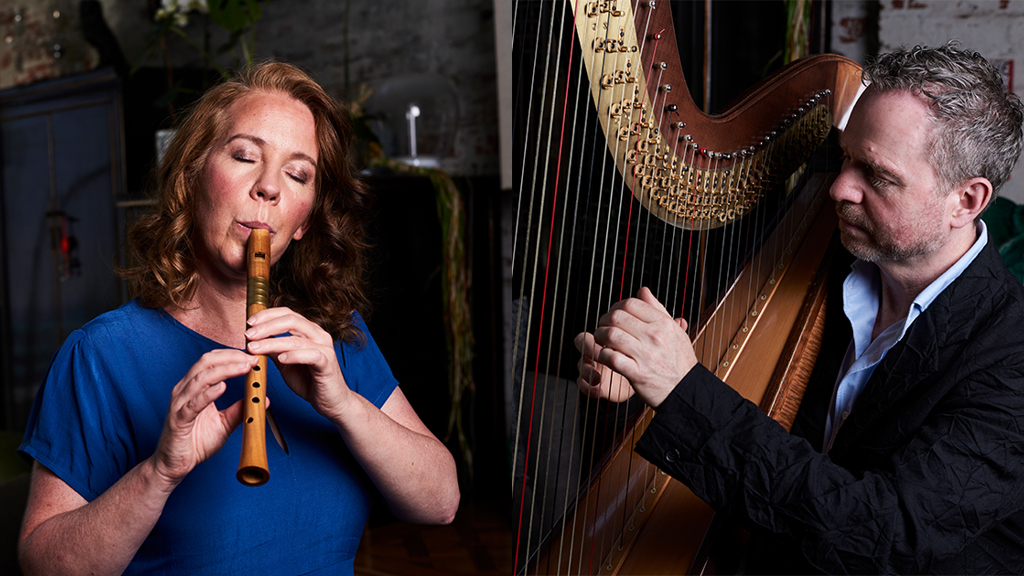 This event has been cancelled and will not proceed as scheduled.
In 2020, when asked whether she thought Musica Viva could put on stage a program she had conceived entirely for the recording studio – a lovely juxtaposition of music old and new, a collaboration with a dear and well-matched friend, renowned harpist Marshall McGuire – the wondrous musician Genevieve Lacey responded:
"During this time of isolation, people the world round are yearning for shelter, both physical and spiritual. Bower is an associative, ephemeral nest, woven with memories, heart, hope. Musical treasures found, borrowed and made are lovingly fashioned into a sanctuary."
Accordingly, this program emerges gently onto the concert platform, offering audiences a unique shared experience, enhanced with sound by Jim Atkins and lighting by Niklas Pajanti. Genevieve's bower is the most authentic extension of the ideas at the heart of one of the programmed pieces, Purcell's exquisite Evening Hymn:
Now, now that the sun hath veil'd his light
And bid the world goodnight;
To the soft bed my body I dispose,
But where shall my soul repose?
Lacey's articulation is impeccable, ad her approach to phrasing delicate and nuanced, drawing the listener in with each lilting sigh, pause, and flourish

Limelight
McGuire's beautiful delivery of the work's spacious undulations and gently clashing notes had the audience riveted

West Australian
---
Please note Musica Viva and City Recital Hall will continue to apply NSW Public Health Orders as they relate to ticketing and seating arrangements. As these Orders can change at very short notice, Musica Viva will be allocating seats closer in time to concert dates than they have in previous seasons. This will allow us to maintain a COVID-19 safe environment. By purchasing tickets through City Recital Hall, the patron agrees for their data to be handed over to Musica Viva for allocation purposes only, their data will not be used for any marketing purposes unless previously indicated.
---
---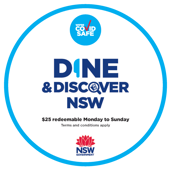 Get $25 off your ticket purchase with Dine and Discover NSW
The NSW Government has launched Dine & Discover NSW to encourage the community to get out and about, to support dining, arts and recreation businesses that have been impacted by COVID-19. 
Use your Discover Voucher when booking over the phone or in-person at our box office to get $25 off your next ticket purchase.  
Terms and conditions can be found on the Service NSW app.
---
Visitor Safety Information
Before you arrive at City Recital Hall, familiarise yourself with our new venue protocols here.
Please do not attend this event if you are feeling unwell. If you have tickets and are no longer able to attend:
View our updated Terms & Conditions 
Visit www.health.gov.au for the latest advice and information about COVID-19
Contact the Coronavirus Information Line 1800 020 080 for any health enquiries
Details correct at the time of publication.
Music by John Playford, Jacob van Eyck, Cipriano de Rore, Heinrich Ignaz Franz Biber and Henry Purcell (some arranged by Genevieve Lacey and Marshall McGuire), alongside Australian premieres:

Skipworth

Cavern

Bennett

Baiyan Woka (arr. Erkki Veltheim)

Keller

I Surrender

Van Reyk

threaded in amongst the infinite threading

Flynn and Humphrey

A mutual support for precarious times

Veltheim

Nocturne over blue ruins

Rodgers

Birds for Genevieve 

Genevieve Lacey

Recorders

Marshal McGuire

Harp