Diana Doherty & Streeton Trio
Musica Viva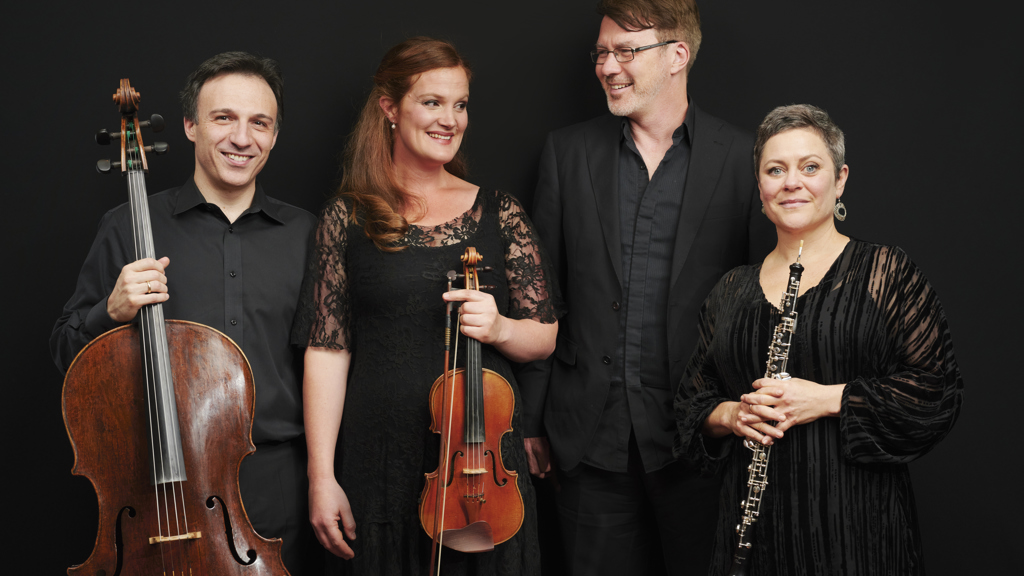 Acclaimed worldwide for her unparalleled command of a famously tricky instrument, Sydney oboist Diana Doherty makes a rare national tour in 2021. Diana's delicious, eyes-alight style of performance finds a joyous match with her friends, the Streeton Trio, performing with Diana and alone in masterpieces of the repertory.
Chamber music for oboe quartet is relatively rare, so this is a unique opportunity to experience this appealing combination in two works. The first is by Martinů, a genial, airy piece, deceptively well-crafted, hinting at his habit of composing while out for a walk. The second is a world premiere by Western Australia's Lachlan Skipworth, described by The Australian as possessing a 'rare gift as a melodist'. His new Oboe Quartet is a musical portrait of the couple in whose memory it was commissioned. It reflects their shared love of Bach, their hobbies, and characters, in its vibrant colours, interlaced lines and lively textures. Anne and Alan Blanckensee are part of Musica Viva's history and it is a joy to bring this work to the stage.
Diana Doherty played like an incarnation of an exotic woodland bird, a mercurial animal of alert and sometimes savage energy, and force of creation all in one…a tour de force

Sydney Morning Herald
The Streeton Trio provided a masterclass, with deeply expressive playing rich in elegance, intellect and vitality

The Australian
Skipworth writes from the heart, the music sounding admirably original and by no means derivative.

The Advertiser
✰✰✰✰✰

Limelight
---
Visitor Safety Information
City Recital Hall has been granted an exemption from NSW Government to increase capacity to 100% 
Before you arrive at City Recital Hall, familiarise yourself with our new venue protocols here.
Please do not attend this event if you are feeling unwell. If you have tickets and are no longer able to attend:
View our updated Terms & Conditions 
Visit www.health.gov.au for the latest advice and information about COVID-19
Contact the Coronavirus Information Line 1800 020 080 for any health enquiries
Details correct at the time of publication.
Program 1 - Saturday 6 March 

Martinů

Quartet for Oboe, Violin, Cello and Piano, H.315 (1947)

Smetana

Piano Trio in G minor, Op.15 (1855)

Skipworth

Oboe Quartet* (2020)

 

Program 2 - Monday 8 March

Martinů

Quartet for Oboe, Violin, Cello and Piano, H. 315 (1947)

Mendelssohn

Piano Trio No.1 in D minor, Op. 49 (1839)

Skipworth

Oboe Quartet* (2020)

*Commissioned for Musica Viva Australia in memory of Anne and Alan Blanckensee, by their son Andrew, family and friends. World premiere performances. 

Diana Doherty and Umberto Clerici appear courtesy of the Sydney Symphony Orchestra.

Diana Doherty

Oboe

Emma Jardine

Violin

Umberto Clerici

Cello

Benjamin Kopp

Piano