A Little Lunch Music: 'Ziyara' — The Rubai'
Curated by City Recital Hall and Kathryn Selby AM
Classical Music
Contemporary Music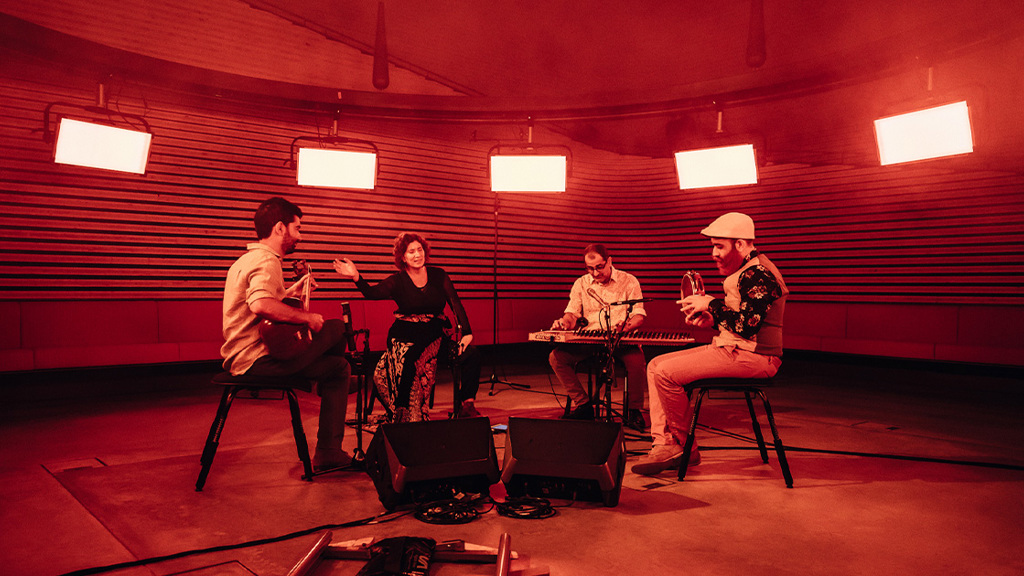 A quartet of musical soloists and friends come together to explore their passion for Arabic music's Tarab, the state of euphoria a music listener reaches at the height of enrichment.
Established virtuosos and performance artists in their respective rights, these performers have long crossed musical paths on various projects and now come together for a performative "conversation" in Qudud Halabiya - a musical genre originating from Andalusia that was further crafted and popularised in the courts of Aleppo in Syria.
The Rubai' is; Maissa Alameddine vocalist, multi-disciplinary artist and Creative Director of Arab Theatre Studio's musical project Ensemble Dandana, Hamed Sadeghi multi ARIA award nominee, tar player and composer, James Tawadros multi ARIA Award winner and world-class percussionist in the Arabic Riq and Mohammed Lelo master of Qanun and Arabic Maqam specialist, Leader of Ensemble Dandana.

Vocalist Maissa Alameddine will set the tone with traditional Mawals (Melisma) set delicately to Arabic rhythms. The repertoire features interpretations of the classical Tarab from Egypt to the Mashriq (Syria, Lebanon and Palestine) and focus on love, hopeless longing for the beloved and yearning for home.
---
Visitor Safety Information
Before you arrive at City Recital Hall, familiarise yourself with our new venue protocols here.
Please do not attend this event if you are feeling unwell. If you have tickets and are no longer able to attend:
View our updated Terms & Conditions 
Visit www.health.gov.au for the latest advice and information about COVID-19
Contact the Coronavirus Information Line 1800 020 080 for any health enquiries
*Details correct at the time of publication.
Vocals

Maissa Alameddine

Tar

Hamed Sadeghi

Percussion

James Tawadros

Qanun

Mohammed Lelo