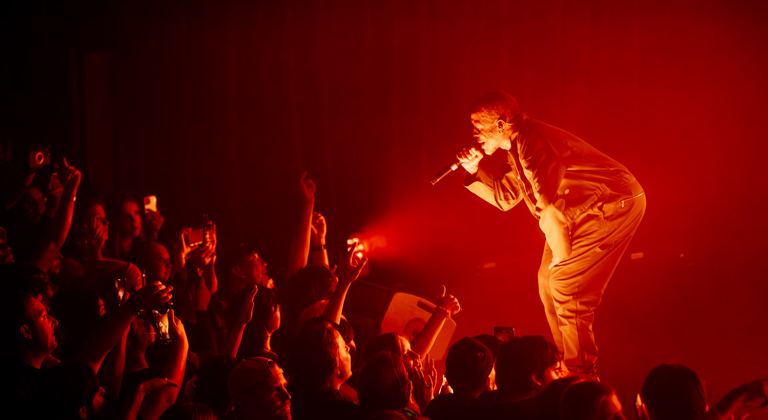 HOW DO I BUY TICKETS?
You can book tickets online by clicking the 'Buy Tickets' button on the individual event page on this site, by phone on 02 8256 2222 or by visiting our Box Office in person. Please see our Booking and Collecting Tickets page for details.
CAN I SELECT MY OWN SEATS WHEN I BOOK ONLINE?
Yes. When you click a 'Book Now' or 'Buy Tickets' button, you'll be directed to an interactive seating map. Click on the area of the auditorium you would like to be seated in. This will take you to a more detailed map of the availability and prices for that section of the auditorium. From here, you can choose your seat from what is available by clicking on the coloured circles.
DO I HAVE TO PAY TRANSACTION FEES?
A booking fee of $8.50 per transaction applies.
City Recital Hall Members are exempt from booking fees. See City Recital Hall Membership to find out more.
WHERE CAN I FIND YOUR TERMS AND CONDITIONS?
Please view the City Recital Hall General Terms and Conditions here for Ticket and Attendance.
DO YOU SELL GIFT VOUCHERS?
Yes, you can buy gift vouchers online or from our Box Office.
HOW DO I BECOME A MEMBER?
Simply visit our Memberships Page for details on how to become a new City Recital Hall Member.
I AM A MEMBER, HOW DO I ACCESS TICKET DISCOUNTS?
If you're an existing Member and booking tickets online, you need to log in before you start selecting your concerts to get access to your Member discounts and waived transaction fees. If you are booking by phone, let our Box Office staff know you're a Member and quote your Member number before proceeding with your transaction.
WHAT IF I CAN'T MAKE THE PERFORMANCE?
While we're unable to refund tickets, if you cannot make it to a performance we encourage you to give your ticket to a friend to use.
HOW DO I FIND CITY RECITAL HALL?
City Recital Hall is located in Sydney's CBD between George and Pitt Streets, near Martin Place. See where we are on a map.
WHEN DO DOORS OPEN?
The main doors to the foyer and bar areas open 60 minutes prior to each event, unless otherwise specified. The auditorium doors open approximately 45 minutes prior to the start of each event, unless otherwise specified. 
WHERE CAN I EAT?
City Recital Hall's bars offer a selection of snacks and alcoholic and non-alcoholic drinks. We're also located in walking distance to plenty of great spots to eat and drink, including those listed on our Eating and Drinking page.
CAN I EAT AND DRINK IN THE HALL?
Food and drink is permitted within the auditorium, unless otherwise specified. City Recital Hall's bars offer a selection of snacks and alcoholic and non-alcoholic drinks, which you're welcome to consume in the venue. Please take all rubbish with you and place in the bins provided.
IS CITY RECITAL HALL ACCESSIBLE?
Yes, we strive to assist all patrons including patrons with specific needs and to provide you with the best possible experience every time you visit. City Recital Hall is wheelchair accessible, has a T-Loop for patrons using hearing aids, and supports the NSW Companion Card scheme and National Relay Service. Please see our Accessibility page for details.
I HAVE A HEARING AID, WILL I BE ABLE TO HEAR THE MUSIC?
Yes, patrons using hearing aids can access the hearing induction loop in the auditorium. To use the loop, please switch your hearing aid to the "T" position. Please note that seats 51-54 in all rows are not serviced by the induction loop. If you need to use the T-Loop, please let our Box Office staff know when purchasing your tickets so they can make sure you're seated in an appropriate location.
WHERE CAN I PARK?
Wilson Parking operates a car park next to City Recital Hall at 123 Pitt St, Sydney. Accessible parking spaces are available in the car park beside the venue lifts. You can access the Hall directly using the car park lift from 60 minutes prior to the performance start time, unless otherwise specified.
WHAT SHOULD I WEAR?
Unless specifically mentioned in the event details, there is no dress code for City Recital Hall events. Come dressed in whatever you feel comfortable watching a performance in.
DO YOU HAVE A CLOAKROOM?
Yes, all items larger than a standard handbag must be left in the cloakroom in the Entry Level foyer.
HOW LONG ARE YOUR PERFORMANCES?
Performances vary in length and run on average from one to two hours. Where available, information about the duration and interval is listed on individual event pages on this site. For more information contact our Box Office.
CAN I BRING CHILDREN TO A PERFORMANCE?
Yes, we think it's great for children to be introduced to performing arts from a young age. Children under the age of two can sit on the lap of a carer and older children will need a ticket for entry. Please ask the Box Office when booking your tickets if you are unsure if an event is suitable for children.
Unless otherwise specified by the presenting company, infants up to the age of two years are free of charge if seated on your lap. While prams are not permitted inside the auditorium, we provide pram parking in the foyer. Please note that carers and children may be asked to step outside the auditorium if the child becomes unsettled.
CAN I TAKE PHOTOS AND VIDEOS?
Unless specified in announcements at the start of an event, you are not permitted to take photos or videos during the performance, including on mobile phones.
IS THERE ANYTHING I SHOULD OR SHOULDN'T DO?
It's customary to applaud at the end of a piece of music. If you're unsure when to clap, just follow the lead of those around you. For the enjoyment of others, please don't talk during the performance or use your mobile phone. Mobile phones must be turned to silent.
Image: Jess Gleeson, Switched On: The Pharcyde with Masta Ace & Marco Polo, City Recital Hall, June 2023