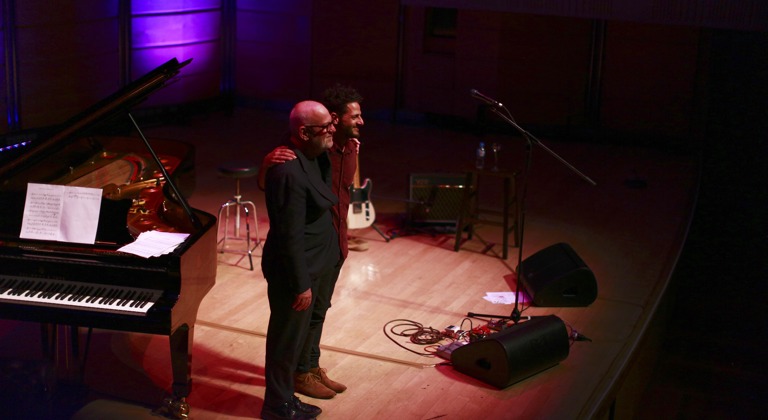 Thank you to our supporters
Our supporters play a vital role in supporting the development of City Recital Hall and its artistic program.
It is with grateful thanks that City Recital Hall would like to acknowledge the generosity and support of our philanthropic supporters.
David Albert
Janie and Michael Austin
Helen Bauer and Helen Lynch AM
Abby Bloom and Robert Angyal
The Boyarsky Family
Ian and Jennifer Burton
Tim Cox AO and Bryony Cox
Cuffe Family Foundation
Fiorella and Phillip de Boos-Smith
The Goodridge Foundation
Christina Green and Maurice Green AM
Carol and Victor Grynberg
Andrew Kaldor AM and Renata Kaldor AO
Mrs W.G. Keighley
James Kirby and Claire Wivell Plater
Elizabeth Laverty
Rachel Launders and Paul Clark
Barbara and Sam Linz
Suzanne and Michael Lynch
Anthony and Suzanne Maple-Brown
Olivia McArdle
Dominik Mersch
Naomi Milgrom Foundation
Lisa and Egil Paulsen
David and Daniela Shannon
Belinda Storr
Mary-Lynne Taylor and the Estate of the Late Ted Taylor
Wilson Asset Management (Louise Walsh)
Anonymous (1)
Bravo Circle
Elaine Chia and Ettore Altomare
Jill Berry
Ellen Borda
Ian and Jennifer Burton
Christine and Diane Malcolm Dioptics
Jean McPherson
Anonymous (2)
Community and Access Supporters
Rob Macfarlan and Nicole Abadee
Ben Adamson
Ian and Jennifer Burton
Kate Dixon
Iphygenia Kallinikos
Fiona McDonald
Sue Radford
Sylvia Rosenblum
Jennie Sager and family
Satya Sinha
Andrew and Masako Walker
Anonymous (1)
Encore Circle
Lawrence Osborn
Anne Smith
Supporters
Lisa Chung and Philip Howard
David Cooper
Timothy Freeman
L Goodridge
Andrea Govaert
Peter Halas
Mrs Georgina Horton
Dr Veronica Lambert
Robert Mangioni
Marcus McArdle
Dr David Millons
Roslyn Morgan
Dr P and Mrs D Southwell-Keely
Ernestine Spiegel
If you would like to join our community of supporters with a tax-deductible gift, you can donate online now or contact Caroline Davis, Philanthropy Manager on caroline.davis@cityrecitalhall.com or on 02 9231 9000
Donations over $250 are acknowledged in our annual program and website for approximately one year after they are made.