Kathryn Selby AM
Pianist and Artistic Director, Selby & Friends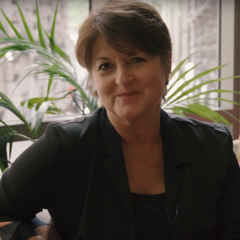 Kathryn Selby AM
An embellished and celebrated Australian pianist, Kathryn Selby AM is the Artistic Director of Selby & Friends and the co-producer of our much-loved series, A Little Lunch Music. We ask Kathryn about her experiences at City Recital Hall and her hopes for the future of the venue. 
Why was it important for City Recital Hall to be built?
It was vital that Sydney's CBD had a viable venue for music on a slightly smaller scale than the Opera House and yet both large enough to accommodate a small orchestra and intimate enough to house chamber music. The venue met all these requirements and exceeded many expectations in terms of its functionality and purpose whilst providing a central location for transport.
What is your first memory of listening to music at the Hall?
For me it was not so much first experiences of listening but rather of performing in the Hall. It is a superb venue in which to play and work. The warmth of the ambience, sound and atmosphere provides a welcome home for many musicians like myself who perform there regularly. It is a bit daunting walking out on the stage for the first time but it soon woos with its warmth of sound and overcomes any nerves a newcomer may have.
Do you have a favourite moment at City Recital Hall?
I have performed there many times and each time is a wonderful experience, not just for the venue itself but also its staff who are extraordinarily kind, welcoming and supportive. 
What do you hope to see the City Recital Hall become over the next 20 years?
I would hope the venue continues to go from strength to strength as one of Australia's finest performing arts venues. If I had a wish it would be for the venue to expand and include another venue of about 500 seats for slightly smaller events. However, it is a beautiful space in which to perform and I'm grateful Sydney has such a Hall for us all to enjoy.
MORE ABOUT OUR 20th CELEBRATION