Daughters: A Note from the Librettist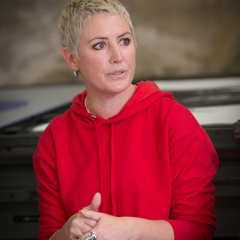 Tammy Brennan
The writing of Daughters libretto has been a deep and personal experience that began in 2012 in New Delhi India. Profoundly affected by the very brutal, sadistic and fatal attack on Jyoti Singh, it was my grappling to understand the intensity of such a savage assault on this young woman that provoked the research and writing of Daughters. Vast numbers of reported news stories have been reframed here as an epitaph to women and girls spanning both the ancient and the modern worlds. Daughters is an honouring of their resistance and resilience, alongside an acknowledgement of the ongoing pain and suffering of violence and abuse against our women and girls, and its legacy. The poetry of the libretto is very much offered as a place for reflection, as much as it is a call to action.
About Tammy Brennan
Tammy Brennan is an agitator and artist who creates and produces contemporary cross-artform works using text, music, performance and site. Her work uses multiple artistic languages to investigate culture and contemporary issues, such as human rights violations and trauma. Her practice is focused on artistic exchange and interdisciplinary collaboration that seeds critical thinking, action and reflection targeted at meaningful social engagement.
DAUGHTERS LYRICS
Oh sweet father
Look at me
Turn, before you lose me
I am small
I am young
Open your heart
Hear my prayers

Night sets her foot
Upon my burden
O sweet father
Know my sorrow
You are full, I am empty
Close to death
I am no gods angel
I am worthless
Hear my prayers

Oh sweet father
Taste my tears
A little salt
A little blood
A little fear
Hear my prayers

I will return
I will return
I will return
In my dreams
I run through the jungle

"Aisha's Fado"