Daughters: A Note from the Composer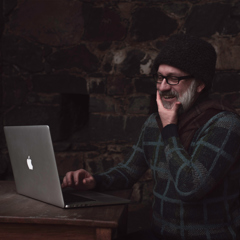 David Chisholm
Eleven fado and one zarzuela comprise the musical vessel of Daughters.
When generating music for a work around gender violence, one is conscious of violence more broadly. Colonialism is violence by policy and administration, violence by control at a state level. The choice of fado then was in part to harness the character of saudade, the untranslatable Portuguese word that underpins a genre that is almost always sung by women, with almost always male musicians. Additionally this choice nods to Portugal's 500 year administrative occupation of regions of India, something far more appropriate when working on an intercultural project with Indian artists, rather than default to the violent fantasy of ethno-exoticism these artists often face in such Western cultural encounters.
About David Chisholm
David Chisholm has an international practice defined through diverse and hybrid collaboration for which he has won and APRA|AMCOS Art Music award, six Green Room Awards, a French Australian Chamber of Commerce and Industry Award, a Highly Commended Paul Lowin Prize, a Mention at 36th Bourges International Competition of Electroacoustic Music and Electronic Art, a Special Mention in the X Media Forum, 31st International Film Festival in Moscow, the Medibank Private State and National Arts Awards and The National Young Achiever of the Year. In 2014 he was an Associate Artist for Malthouse Theatre and in 2017 an Australia Council for the Arts Composer in Residence at HIAP in Helsinki, Finland.

Appointed in 2019 as Senior Lecturer and Composition Convenor for the School of Music, University of Auckland, he begins a new role in 2020 as their Deputy Head of School. David is Founding Artistic Director of the Bendigo International Festival of Exploratory Music.