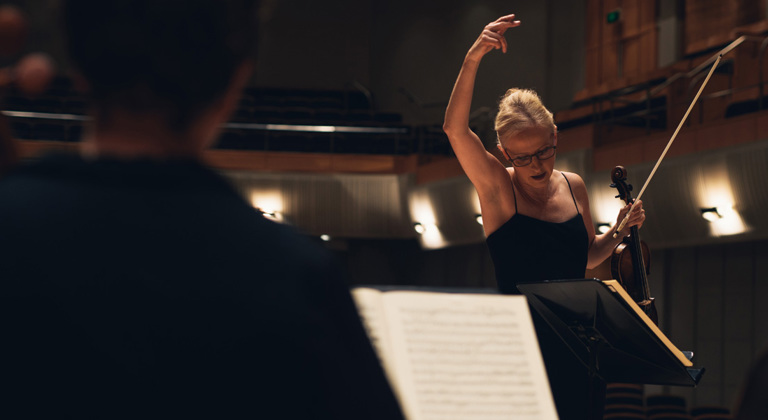 2022 Voyage of Musical Discovery Package
The Voyage of Musical Discovery is equal parts concert and demonstration, as the Australian Romantic & Classical Orchestra and their special guest ensembles and soloists guide you through music of the past and present to discover how music is created.
Book Three Concert Package
Mon 21 Mar 2022, 6.30pm 
The first Voyage introduces, demonstrates and explains key concepts of design and innovation in music across the centuries. Listeners will explore Romantic works by Elgar and Holt as well as music performed (and composed) by Elena Kats-Chernin and Tamara-Anna Cislowska for piano by four hands.
Tue 14 Jun 2022, 6.30pm
The second Voyage charts the links between music, culture and narrative. The Voyage begins by exploring the works and stories of two Viennese Romantic composers Schubert and Eybler. The second half finds common ground between two instruments of different cultures – the didgeridoo and violin, with William Barton and Veronique Serret.
Tue 23 Aug 2022, 6.30pm
The final Voyage of Musical Discovery for 2022 reveals the multiple identities of composer, character and performer and the links between them beginning by performing renowned works by Mozart. Taikoz is featured as special guest ensemble and demonstrates how the expressive scope and musical energy of today's performers and composers grow from surprising combinations of identities, times, places, styles and sounds.
3-Concert Package Prices
General Admission
Standard   $148.50
Student   $81
A booking fee per transaction applies for this event as follows: Internet $6.95, Phone $8.50. There is no booking fee for tickets purchased in person at the City Recital Hall Box Office. City Recital Hall Members enjoy waived transaction fees.
City Recital Hall is the only authorised ticket seller for these events. City Recital Hall is under no obligation to honour tickets purchased via unauthorised re-sellers. If you attend an event with a ticket purchased via an unauthorised re-seller such as Ticketmaster Resale, Viagogo, Ticketbis, eBay, Gumtree, Tickets Australia or any other unauthorised seller, you may be refused entry to the event.
Book Three Concert Package