Sydney Flash Mob Choir
City Recital Hall
Free Event
Vocal & Choral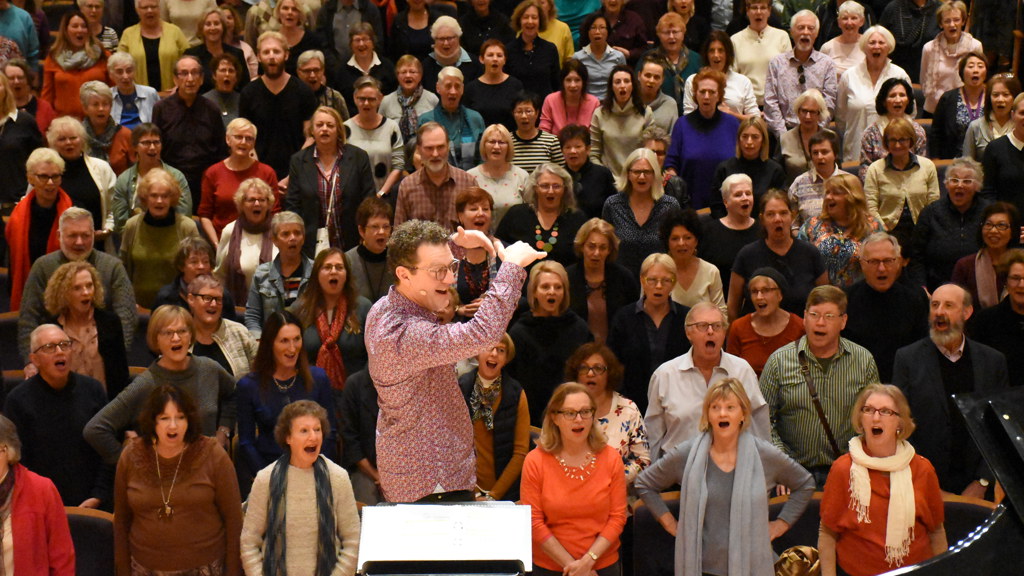 This joyful, spontaneous musical gathering will get your voice – and heart – soaring!
Sydney Flash Mob Choir is inclusive, uplifting and completely exhilarating. From the moment you step into the hall and add your voice, you'll be hooked on the contagious energy and sense of community. And there will always be an entertaining conductor on stage to guide you through the song, and sometimes even a special guest.
To join in the fun, sign up for our SMS alerts and we'll let you know when there's an event coming up. Absolutely no experience, preparation or commitment is necessary – and it's free!
How it works: You get an SMS with a date and time. You decide to come along. We bring on stage one of Australia's many entertaining and talented conductors who picks a song for you to sing and there might just be a surprise guest.
Prepare to be moved to laughter, tears, and toe-tapping synchrony. The energy is contagious, cathartic, and full of warmth – an unbeatable experience for anyone who wants to, loves to, needs to….SING
It's free. It's fun. There's no commitment or rehearsals. 
With thanks to our Community and Access Supporters
Want to support Sydney Flash Mob Choir? Click here to find out how you can keep this heart-warming community event free and alive. 
Here's how Sydney Flash Mob Choir works:
Register your mobile number below to receive notifications of Flash Mob Choir events
When there's a Flash Mob coming up, we'll SMS you with the date and time a few days beforehand
If you're free, just turn up to City Recital Hall
We give you a song sheet
You sing your heart out and then it's gone, until the next time…
Register for SMS notifications
If you have registered previously for Sydney Flash Mob Choir, you don't need to register again!
Frequently Asked Questions
When is Sydney Flash Mob Choir being held? 
We'll hold Sydney Flash Mob Choir events about once a month. The days and times will vary so different people can attend each time.
Register your mobile number above and a few days before the next Sydney Flash Mob Choir event we'll send an SMS to everyone who has registered to let them know the date and time. 
How long does each event go for? 
Each one will run for about 45 minutes but you're free to come and go as you please.
Once I register, do I have to attend every event? 
No, there's no commitment. You can choose to come often, now and then, or not at all. It's up to you, but we hope to see you often.
Can I bring friends or family who haven't registered? 
Yes, the more the merrier! They only need to register if they would like to receive notifications of Flash Mob Choir events from us.
Do I need to reply to the SMS to let you know whether or not I'm attending? 
No, if you can make it, just turn up. Our SMS service doesn't receive replies.
Do I need to register for each flash mob event?
No, you only need to register your mobile phone number once and you'll receive an event SMS notification each time.
Do I need to buy a ticket to participate? 
No, the events are free and non-ticketed. If you can make it, just turn up.
Even if I'm a terrible singer, can I still participate? 
Absolutely, enthusiasm counts for just as much as a good singing voice in Sydney Flash Mob Choir.
I can't read music, can I still participate? 
Yes, you don't need to have any experience. The conductor will guide us all through the songs on the day.
Do I need to practice the songs beforehand? 
No, the songs we sing will be a surprise. You'll be given a song sheet and guided through the songs on the day.

Details are accurate at time of publication