Requiem Mass: A Queer Divine Rite
City Recital Hall and Sydney Gay and Lesbian Mardi Gras
Vocal & Choral
Contemporary Music
Festival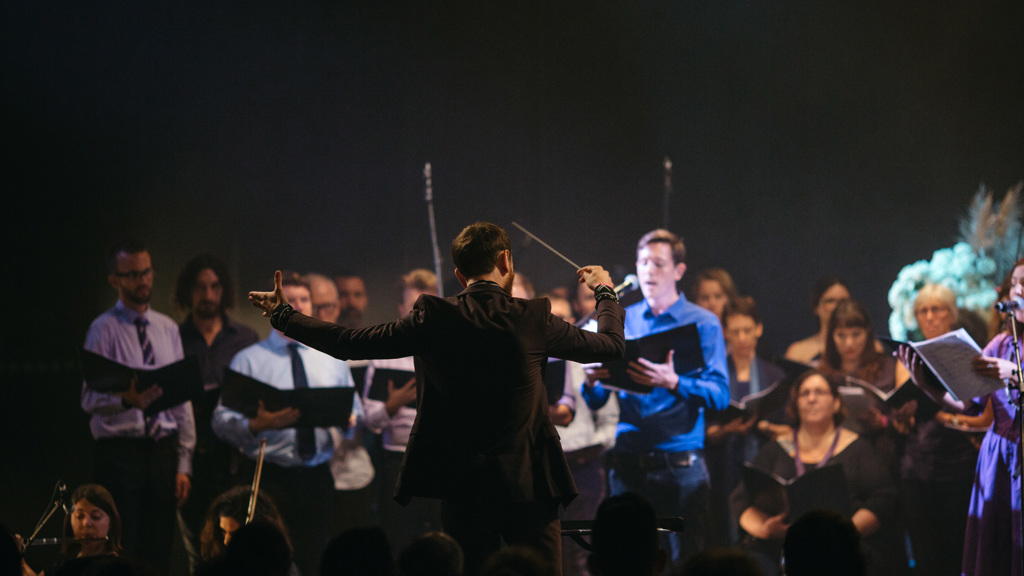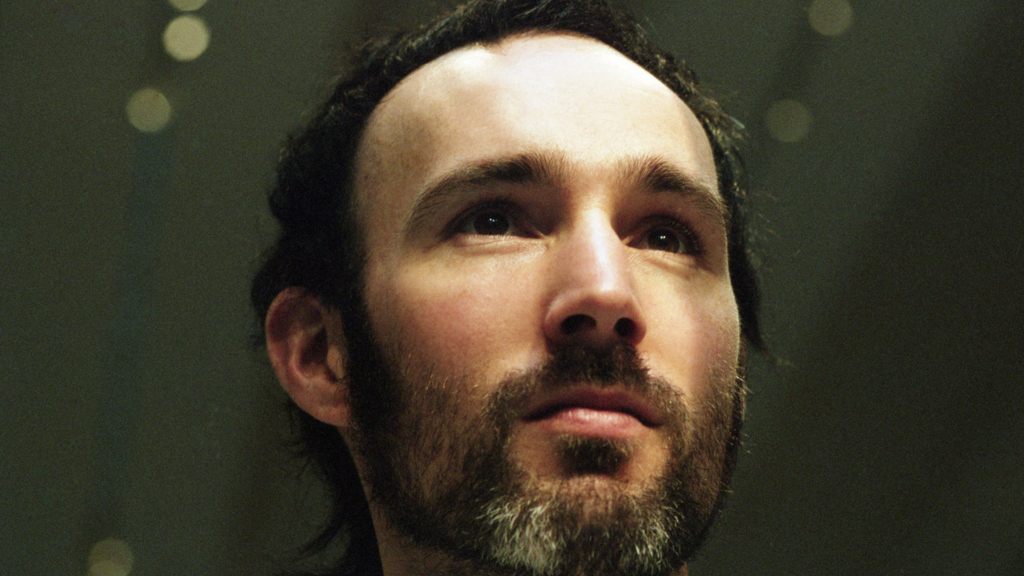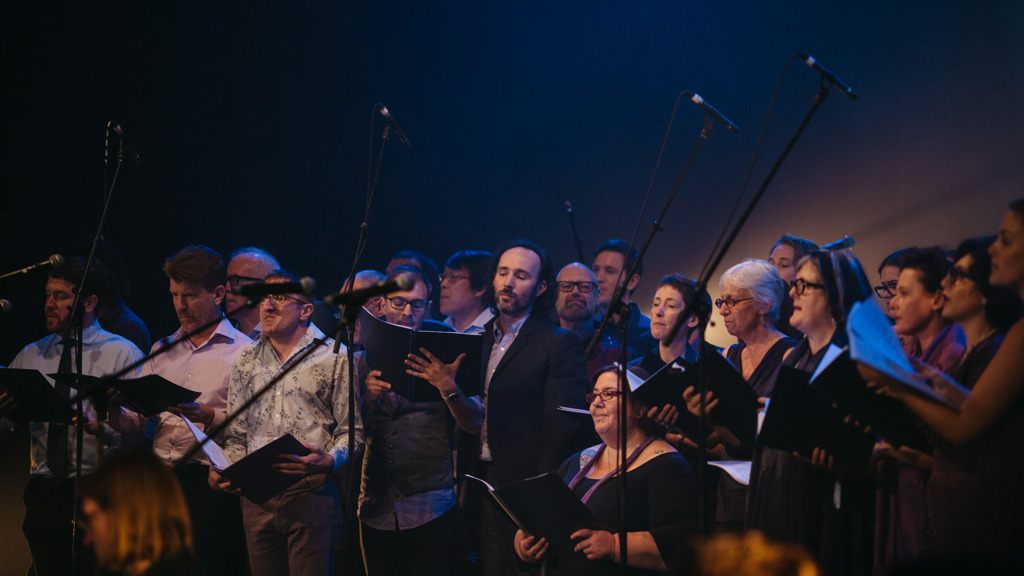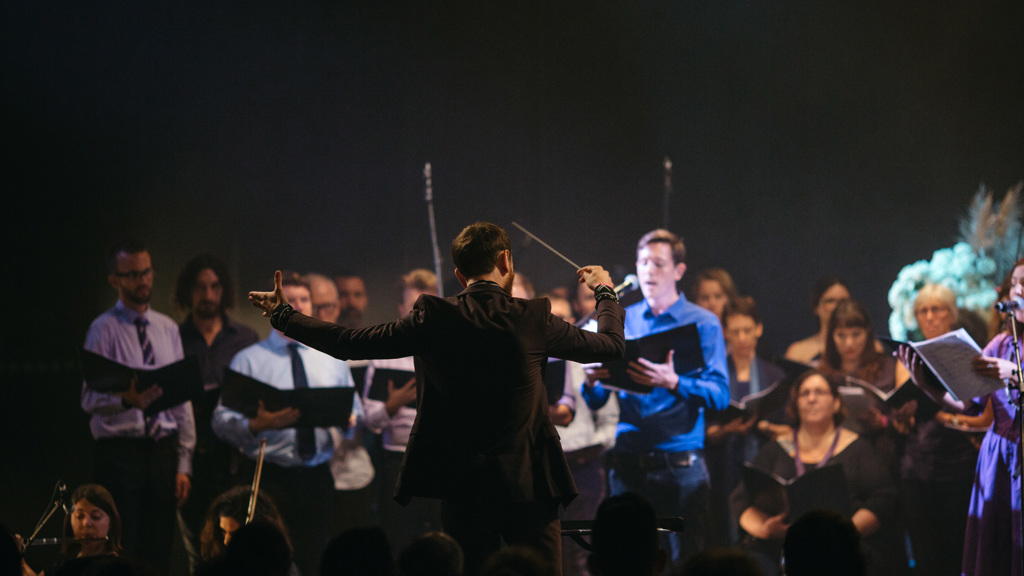 By Holcombe Waller
"Music brings people together. It creates fellowship and shared experience. It disarms, it softens, it connects with heart. A Requiem calls on our common mortality" Holcombe Waller

Requiem Mass: A Queer Divine Rite is an original choral work written by American singer and composer, Holcombe Waller. It is a radical re-imagining of the formal Latin Mass that adds Queer voices to the canon of worship and religious music in a completely contemporary context.

The Mass is music of our generation, written about our shared experiences. Through this musical journey, we reflect and honour those that have been loved and lost to us, and those who suffered persecution for their gender expression or sexual orientation, particularly in a religious context.

The 35 member choir, consisting the Sydney Chamber Choir and the Mardi Gras Community Choir, conducted by Sam Allchurch are the heart and soul of this work. Together with an eight piece band, and speakers Julie McCrossin, Victoria Spence and Terese Casu, this Mass is also a call for action for fellowship and unity, a hopeful future where religion affirms and welcomes all people.

Join us for Requiem Mass to experience a healing and reflective process showing that although there have been souls that have been persecuted, they are not destroyed. Truth, love and inclusiveness is at the heart of us all.
This is an Auslan Interpreted event. Please call our friendly Box Office staff on 02 9231 2222 or email boxoffice@cityrecitalhall.com to arrange tickets in view of the interpreter. 

The Australian premiere of Requiem Mass was originally produced by Performance Space for Day for Night: 24 HRS, 2016.
Image: Holcombe Waller, Requiem Mass. Photo: Hospital Hill. Courtesy of Performance Space.
Details are accurate at time of publication
Director

Holcombe Waller

Musical Director

Sam Allchurch

Mardi Gras Community Choir
Alison Dutton
Andrew Kensy
David Puls
Dianne van Dulken
Janet Gibson
Kate Andrews
Lucia Giuffre
Mark Ashdown
Michael Woodhouse
Paul Long
Paul Wong
Rebecca Fortune
Ruth Thompson
Sahar Hosseinabadi
Santino Emmi
Stuart Annels
Sue Wittenoom
Tim Smyth
Trish Talbot

Sydney Chamber Choir
Adam Majsay
Alison Lockhart
Belinda Montgomery
Claire Burrell-McDonald
Deirdre Bridgwood
Ian McCahon
Josh Murray
Judy Herskovits
Malcolm O'Brien
Megan Cronin
Natalie Shea
Nick Gilbert
Ria Andriani
Richard Sanchez
Sam Piper
Wei Jiang

Speakers
Julie McCrossin
Terese Casu
Victoria Spence

Ensemble

Violin

Anna McMichael

Organ

Benjamin Burton

Bass

Elsen Price

French horn

James McCrow

Drums and percussion

Jess Ciampa

Keyboard

Luke Byrne

French horn

Sebastian Dunn

Trumpet

Simon Sweeney