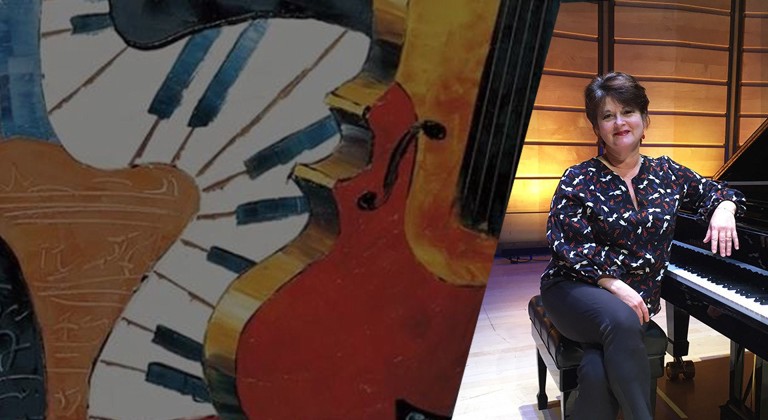 Exotic Strudel
Tue 9 Mar 7pm, 2021
This delightful season opener presents a fascinating glimpse of how three important composers of the first half of the 20th Century – Bloch, Turina and Shostakovich – re-imagined the piano trio in these powerful 'miniatures'. All composed within 19 years of each other and from vastly different European cultures, they contrast and complement the highly developed piano trio format produced by Schubert 100 years earlier at the end of the Classical Era and on the cusp of the Romantic. Natsuko Yoshimoto and Julian Smiles join Kathryn Selby for the first time together in this program filled with pathos, song and passion.
BOOK NOW
Patriot Games
Thu 13 May 7pm, 2021
Opening this concert with one of Australia's most iconic piano trios, by Ross Edwards, we are immediately conscious of the colours, light sounds, and the mystical relationship Edwards has with the sea and earth of this great land. One of Spain's great composers, Enrique Granados, follows with a highly expressive, Neo-Romantic and refined work that embodies the composer's Spanish roots with dance and salon music, hints of the gypsy and the Moor and its many folkloric elements. The beauty and power of Dvořák's style exemplifies his fervent nationalist stance in the face of pressure from the prevalent German tradition bringing to a close this powerful program whose flavours are brought vividly to life by three old friends and veteran Australian artists, Dene Olding, Julian Smiles and Kathryn Selby.
BOOK NOW
Mavericks
Tue 6 Jul 7pm, 2021
This program presents the work of three fascinating composers whose impact was both profound and long-lasting: Amy Beach, Maurice Ravel and Dame Ethel Smyth. Whilst they experienced the world at very much the same point in time, their view of the piano trio genre was vastly different. Discouraged by comments made about "women in music" in an American newspaper by Dvořák, Amy Beach wrote a strong rebuttal and when four years later in 1896, her own work was premiered by the Boston Symphony, she became known as the dean of American women composers and a national symbol of women's creative power. Englishwoman Dame Ethel Smyth, somewhat marginalized for being a "woman" composer, was nonetheless a powerful force, encouraged by both Dvořák and Brahms and known to Clara Schumann. She was also a vigorous member of the suffragette movement. Often regarded as one of France's greatest composers, Ravel also went against the establishment and chose his own path in composition, fusing modern elements with the baroque, classicism and jazz. Bringing together Andrew Haveron, Timo-Veikko Valve and Kathryn Selby, three of Australia's powerhouse artists, this program represents a perfect synergy.
BOOK NOW
Natural Wonders
Tue 21 Sep 7pm, 2021
Australian premiered by Selby & Friends six years ago, Joan Tower's Big Sky is a visceral portrait of the composer riding her favourite horse through a deep Bolivian valley. A Grammy Award-winning American composer, Tower's work is highly evocative, grounded in a love of the natural world. Given his famous long walks and love of nature, it seemed only right to include Brahms' massive youthful, then much later reworked, B major Trio in the program along with the emotionally driven, very late Mendelssohn Trio as they both resonate with imagery, passion, humour and song. Susie Park and Umberto Clerici work together for the first time with Kathryn Selby in this exhilarating program of big works for piano trio.
BOOK NOW
A Rose Between Two Thorns
Tue 9 Nov 7pm, 2021
Our title for this program is quite obviously tongue in cheek! One cannot possibly label either of the great melody masters, Rachmaninov and Schubert, as anything remotely close to being thorns, but the idiom seemed apt in the context of the largely underestimated Fanny Mendelssohn as a composer to be admired in her own right. Highly intellectual, cultured and a formidable force in the musical life of Berlin, Fanny was also confidante and best friend to her brother Felix who passed away within months of her own untimely death. Book-ending the season with Schubert's second great final piano trio, this program, which brings together violinist Grace Clifford and cellist Richard Narroway, two of Australia's most gifted musicians of the younger generation, with Kathryn Selby, is truly an exploration of youth, song, and yearning. It is a fitting close to our dazzling exploration of the piano trio repertoire this season.
BOOK NOW