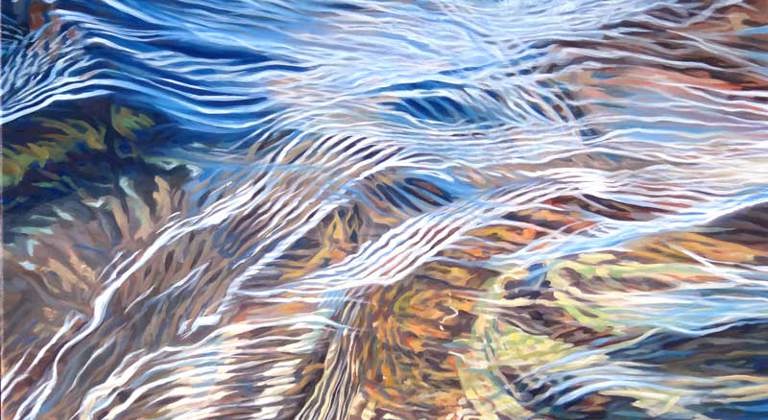 The Exhibition Project Artist: Cathryn McEwen
ARTIST STATEMENT
Water is a beautiful and challenging subject to paint. The water's edge is where the magic happens for me, especially when the surface reflects the surroundings or the changing light; when the light creates prisms on the sand, rocks and vegetation below; when these forms are distorted through an ever-changing dance of patterns on the inconstant surface.
It's these patterns that are the focus of my work – the lines of current, colour and light. The shore's edge with its history and mystery is never constant but reliable and as a painter of waterscapes, I am provided with a lifetime of possibilities – a most beautiful mix of the elements and a myriad of personalities.
BIOGRAPHY
Prior to immigrating to Australia in 1984, Cathryn McEwen exhibited widely across her native country of Canada. She has been exhibiting in Australia since 1986.
In 2011 Cathryn was invited to attend an Artist Residency in Yucatan, Mexico where she began working on a  series entitled 'Water Works', and water has been her focus ever since. In 2016, Cathryn had a solo exhibition 'Wavelength' at the Gosford Regional Gallery.
In 2019, her work was selected for the Muswellbrook Art Prize, Gosford Art Prize and Greenway Art Prize and she had a solo exhibition at the Braemar Gallery in Springwood (Blue Mtns).
Cathryn McEwen is exhibiting at the City Recital Hall as part of the first Exhibition Project of 2020.
For all enquiries and purchases please contact the artist at [email protected]
The Exhibition Project is supported by the City Recital Hall Encore Circle


VIEW ROOM SHEET