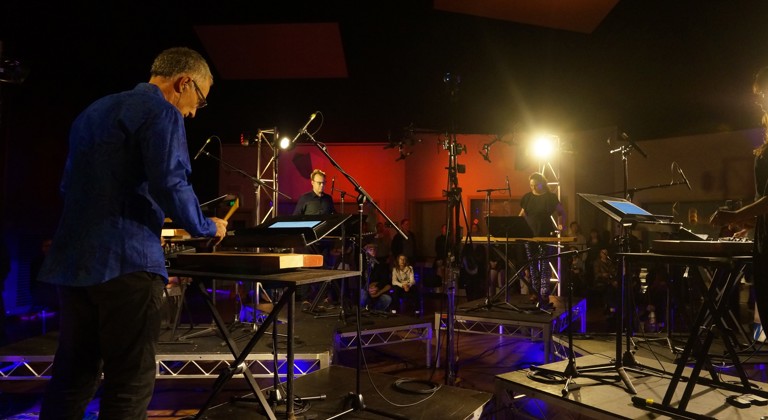 Synergy with Polymorphic Orkestra
Auditorium / 3.30pm - 4.30pm
Synergy Percussion presents 'So Called Laws of Nature' by David Lang with improvised responses between movements from Polymorphic Orkestra.
The best I ever heard the piece played. Really, I'm serious. It really is. It absolutely is

Steve Reich 2012 commenting on Synergy's 2012 performance of "Music for 18 Musicians".
This trio of experimental musicians is surely the avant-garde. Confluence is a captivating and charismatic recording which enchants with its hypnotic dreamlike lyricism.

Barry O'Sullivan  Fine Music FM
Program
David Lang

So Called Laws of Nature
Program current at time of publishing but may be subject to change
Artists
Synergy Percussion
Alison Pratt
Adam Jeffrey
Niki Johnson
Trudy Leopard
Polymorphic Orkestra
Lee McIver
Ed Goyer
Ed Rodrigues
Biographies
Synergy 
Synergy Percussion has the dual distinction of being Australia's oldest and foremost contemporary music ensemble. A world of sound with percussion at its heart, the group celebrated 40 years of concerts, collaborations, recordings and commissions in 2014. Over four decades of huge cultural change, Synergy Percussion has remained vital and fiercely committed to defying expectations of what percussion music might aptly express. Core members Timothy Constable, Bree van Reyk and Joshua Hill are all award-winning and internationally acclaimed exponents of new music in their own right, equally at home on world-music stages, contemporary/experimental art venues, pop concerts and recital halls.
The ensembles' expansive vision of percussion, together with the exceptionally wide musical experience of the members past and present, has allowed the group to work together with a diverse and exemplary family of artists from around the world. Collaborators include Fritz Hauser, Hossam Ramzy, Omar Faruk Tekbilek, Aly N'Diaye Rose, Trilok Gurtu, Jose Vicente, Kazue Sawai, Dave Samuels, Evelyn Glennie, Riley Lee, Taikoz, Michael Kieran Harvey, Sydney Dance Company, Meryl Tankard and Regis Lansac, Akira Isogawa, Grainger String Quartet, William Barton, and the Leigh Warren Dancers, the Sydney and Melbourne Symphony Orchestras among many others.
Well over fifty commissions of Australian and international composers has helped create an Australian percussion sonic identity, and contributed to the canon more generally. Notable commissions include Steve Reich Mallet Quartet (2009, the most significant percussion work of the composer post drumming of 1971), Anthony Pateras beauty will be amnesiac or will not be at all (2013, the most ambitious Australian concert work for percussion), Nigel Westlake Omphalo Centric Lecture (1984, statistically the most performed classical percussion ensemble piece in the world), Ross Edwards prelude and dragonfly dance, Peter Sculthorpe Sun Song, Djilile, Gerard Brophy Book of Clouds. The group also commissions internally, and works by ensemble members have been performed internationally to high acclaim.
To find out more about Synergy visit synergypercussion40under40.com or view their social media channels below. 
Polymorphic Orkestra 
The Polymorphic Orkestra is an electro acoustic art music ensemble that produces improvised musics using a mix of traditional instruments, media technology, audio FX and pre recorded audio stem data. Although our music is free in form we are not overtly atonal. Our music is rhythmic and melodic and constructed during performance requiring a great deal of inter-ensemble focus and musical awareness. Each performance is a journey with no set pieces or tunes as such. Generally our performances are one long set with no breaks. The ensemble members are, Ed Goyer - Vibraphone, Mallet Kat, Percussion, Ed Rodrigues - Drums, iPad, Midi Guitar, Audio samples, Percussion, Lee McIver - Trumpet, Flugelhorn, Laptop, FX, Audio data. Given the style of music we create our opportunities for live performance is moderate in any given year. We generally perform around four times per year in Sydney and occasionally interstate. Although we do not consider ourselves to be a Jazz ensemble we have performed a number of times at SIMA, Foundry 616, Kinetic Jazz and in Melbourne for the Melbourne Jazz Co-op. Individually the members of Polymorphic Okestra are well respected artists active in contemporary new music, jazz, world music and can occasionally be found in the orchestra pit or in commercial recording sessions.
To find out more about Polymorphic Orkestra visit www.polymorphicorkestra.com