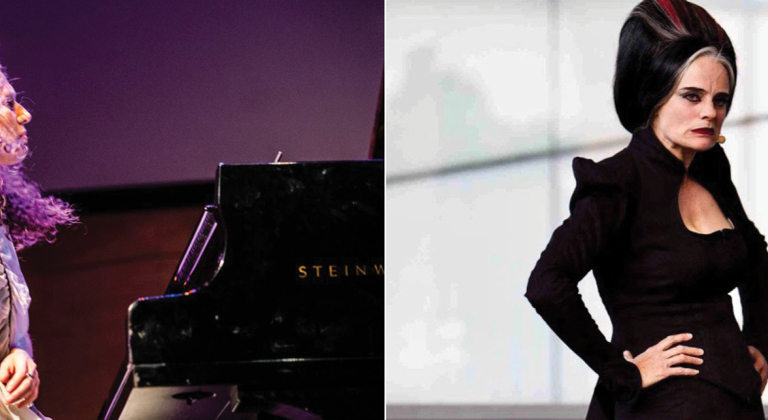 Sonya Lifschitz and Christine Johnston
Auditorium / 1.30pm - 2.30pm
This program is a celestial reflection on the eternal recurrence of time and the cyclical nature of life. Love-Death Music is a work that presents George Crumb's visionary and ground-breaking Makrokosmos (Book 1) in a unique and imaginative way. Joining forces with one of Australia's most remarkable and versatile performance artists, this program brings together music, projection and improvisation to amplify the mystical, otherworldly quality of Crumb's music.
Program current at time of publishing but may be subject to change.
Buy Tickets
EP Home Page
Lifschitz was a life force of extraordinary density and capacity

Words and Music
Program
George Crumb

Makrokosmos Book 1, Twelve Fantasy Pieces after the Zodiac for Amplified Piano
Program current at time of publishing but may be subject to change
Artists
Sonya Lifschitz

Piano

Christine Johnston

Musical saw, vocals, spoken word
Artist Bio
Sonya Lifschitz - Piano
Sonya Lifschitz is a pianist working across many contexts, with repertoire spanning from 15th century Faenza Codex to works written for her today. She is known for her fiercely imaginative, daring collaborations across film, animation, spoken word, visual and performance art. Described as "a life force of extraordinary density and capacity", Sonya's artistry combines bold adventurousness with unparalleled musicianship. She's active as a soloist, serial collaborator, artistic director, educator, radio personality and arts advocate. 

Praised by The New York Times and The Age for her "dynamic" and "powerful" performances, and by the Woodstock Times for her "miraculous keyboard technique and musicianship", Sonya debuted with the Melbourne Symphony Orchestra at age 18 and is internationally recognised as one of Australia's most innovative and fiercely creative musical voices.

In 2016-2019 seasons, Sonya made a critically-acclaimed solo debut at one of the world's most prestigious venues, the Barbican Centre in London as well as in New York's iconic BargeMusic series. Other highlights include performances at the Melbourne (MIAF), Adelaide (AF), Brisbane (BIAF), Canberra (CIMF), Darwin, Metropolis and MONAFOMA Festivals; and venues such as the Melbourne Recital Centre (Melbourne), City Recital Hall (Sydney), QPAC Concert Hall (Brisbane), National Gallery of Australia (Canberra), Elder Hall (Adelaide) and Detroit Institute of Art (Detroit, USA). This year, Sonya was selected as one of only 10 artists from around the world (and the only solo artist), to present a showcase at Classical:NEXT in Rotterdam (Netherlands), and was a featured performer in Angelica Mestiti's Assembly - the work representing Australia at the 2019 Venice Biennale. 

Sonya is increasingly active as a music curator and director, creating innovative, cross-disciplinary, multimedia works that re-contextualise the classical canon and push the boundaries of conventional concert practices. In 2015 she directed and performed a critically-acclaimed multi-disciplinary project (Canzone) for the Melbourne Festival, which integrated performance, visual art, and animated projections to re-imagine music of Claudio Monteverdi through contemporary lens. In 2016, as a Fellow at the Australian National Academy of Music, Sonya directed and presented a fully staged, multi-space performance of all four books of George Crumb's Makrokosmos in collaboration with Australia's leading theatre and lighting design artists as well as the students and faculty of the Academy. In 2017, she has premiered a multimedia work for piano and video (Stalin's Piano) at the National Gallery of Australia, integrating archival footage of iconic creative and political figures, virtuoso piano music and spoken word.

A Fulbright Scholar, Sonya studied under the legendary pianist-conductor Leon Fleisher at the Peabody Conservatory of Music (John Hopkins University, USA). Currently, Sonya holds a Lecturer in Music Performance position at UNSW and has previously been a Lecturer in Performance (Piano) and pianist in the Ensemble-in-Residence at the ANU School of Music. Sonya is a regular presenter on ABC Classic FM radio.
To find out more about Sonya Lifschitz visit www.sonyalifschitz.com or find her on Facebook  

Christine Johnston - Musical saw, vocals, spoken word
Christine Johnston is an Australian performing artist/writer/singer who became known on the Brisbane arts and live-music scenes from the late 1980s for her dramatic visual performances combining music, voice and her signature style of humour, gaining notoriety nationally and internatonally.
She continues to create a diversity of performance and musical works for events, festivals, art galleries, theatre, comedy, short-film, and cabaret, touring through Australia, UK, Europe, Scandinavia, Asia, USA and Canada.
From 1994, Brisbane's iconic Women in Voice cabaret series became a spring-board for some of Christine's iconic concepts and characters including her first full-length, nationally toured show Decent Spinster, receiving a Matilda Commendation Award, and ultimately culminating in her iconic and international touring successes Fluff: A Story of Lost Toys - a collaboration with Lisa O'Neill and Peter Nelson – and her surreal bird-calling character Madame Lark.
In 2000, Christine and friend Annie Lee birthed the multi-award winning and internationally beloved comedic trio The Kransky Sisters who, with regular television appearances, are continuously touring. Collaborating with Carolyn Johns from 2017 and previously Michele Watt, The Kransky Sisters have received several awards and nominations including The Age Critics Award, Best Newcomers Award and Green Room Award at the Melbourne International Comedy Festival (2004), an Australian Mo Award (2005), a Herald Angel Award – Edinburgh Festival Fringe (2006), a Sydney Theatre Award (2008) and 6 Green Room Award nominations (2013 & 2016).
In 2012 another of Christine's nationally toured Rramp House collaborations, RRAMP - the Collector, the Archivist & the Electrocrat, received 2 Greenroom Award nominations for Cabaret Performer and Innovation within a Form. In 2015 Christine had an absolute ball as the 'Old Lady with one buttock' in Opera Queensland's production of Bernstein's Candide, and in 2017 was thrilled to be back with director Lindy Hume in OperaQ's G&S Ruddigore as Mad Margaret.
In 2019 Christine has narrated Prokofiev's Peter and the Wolf with the Tasmanian Symphony Orchestra, and continues to work with artists within different art-forms including upcoming collaborations with pianist Sonya Lifschitz; and also Scottish performer/designer Shona Reppe and Artistic Director Rosemary Myers of Windmill Theatre whose co-commission with Edinburgh International Children's Festival, BABA YAGA, has received four nominations for the Scottish Theatre Awards.
To find out more about Christine Johnston, visit www.christinejohnston.com or find her on Facebook