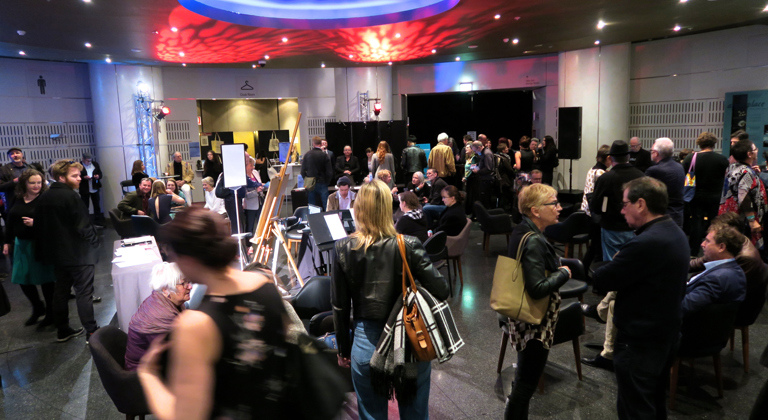 Ground Level Foyer / 12pm - 7pm 
Bring your instrument and join us to perform In C by Terry Riley!
Extended Play is hosting a 7-hour long performance of this unique masterpiece in the Ground Level Foyer.
Terry Riley's In C is widely regarded as the world's first piece of Minimalism.
The work can be any duration, depending on how many times the performers repeat each of the 53 melodic patterns that make up the piece. Most performances last between 40 and 80 minutes. Terry Riley himself tells the story of a 3-hour performance in Mexico City. We believe a 7-hour performance will be a record for the world's longest performance of this piece – so please help us achieve this!
Can any instrument take part?
Yes! Any instrument can take part as long as it can play pitches. If you play an un-pitched instrument, you're welcome to join in, but please be mindful to allow the pitched instruments to be heard prominently (drummers, please note!).
How do I get the sheet music?
You can download the sheet music that matches the pitch of your instrument below:
For F
For B Flat
For Concert Pitch
For E Flat 
On the day, we will have official sheet music on music stands for you. If you require the sheet music in a transposition that's not here, simply email us and we will make it for you!
What is the tempo?
The tempo will be the metronome marking of Quaver = 180. There will be a pre-recorded pulse playing a steady quaver C throughout that you will be able to keep time with.
Do I have to play for all 7 hours?
Of course not! You can join and leave at any time, and come back again. However, you should be aware of which of the 53 melodic patterns are being played at the moment. Terry Riley's wish is that everyone should be no more than 3 to 4 successive melodic patterns apart. We will have a clock and this wall-chart that keeps track of which patterns are being played during the day.
Do I need to practice beforehand?
It's a very good idea to practice the patterns in advance! None of the 53 patterns are tricky to play, but you should get accustomed to playing them at the right tempo. If you know what time you're going to join in, then you can refer to this wall-chart that tell you what pattern you can expect to be playing.
Do I need a ticket to take part?
Yes, you need to be a ticket holder. Tickets are only $35 and you get access to the entire 12 hours of Extended Play. However, if you commit to play for a half-hour, you can have a free ticket to the entire 12-hour event. Simply email us here and let us know the half-hour time slot you can play between noon and 7pm.
How do we end the performance?
In the last 15 minutes leading up to 7pm, everyone should be playing the final melodic pattern (53). We will get louder and softer a few times (crescendo/diminuendo) and then individuals can drop out one by one. The pre-recorded pulse will continue to play for a few seconds after the last player stops, then it will also be faded out.
EP Home Page
Buy Tickets