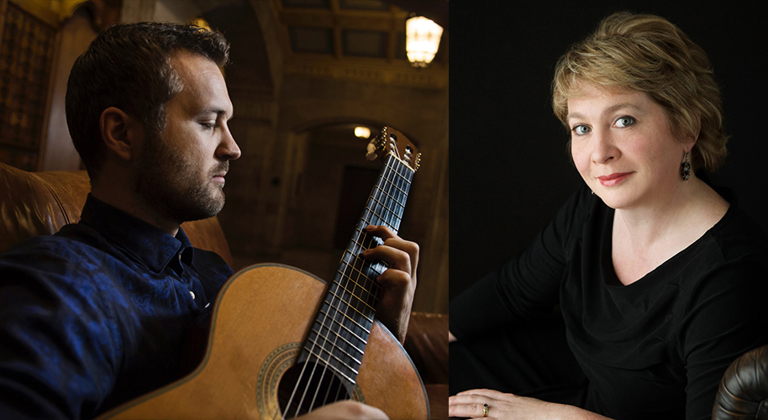 This program shows Halcyon at its most intimate in two energetic works for voice and guitar by Matthew Hindson (Australia) and Kerry Andrew (UK).  Though they are about simple, everyday things, the songs are exuberant bursts of colour demonstrating the wide-ranging influences of both composers.
Program current at time of publishing but may be subject to change.
Buy Tickets
EP Home Page
Program
Kerry Andrew

Fruit Songs

Matthew Hindson 

Insect Songs 
Program current at time of publishing but may be subject to change
Artists
Jenny Duck-Chong

Mezzo-soprano, Artistic Director Halcyon

Vladimir Gorbach

Guitar
Artist Bio
Halcyon is a chameleonic ensemble which has featured more than 100 artists in its lifetime, drawing players together specifically for each performance. Regarded as a leading light in the field of new music, Halcyon presents stunning performances of vocal chamber music from around the world, with a special emphasis on Australian composition. Founded by intrepid singers Alison Morgan and Jenny Duck-Chong, Halcyon has commissioned many works for voice and instruments, performing new repertoire around Australia at music festivals, through its own concert series and at industry events including the prestigious Paul Lowin Awards, where it has been acknowledged as a powerful influence on the growth of this repertoire and associated on many occasions with short-listed and winning pieces. Halcyon is a tireless mentor to emerging musicians and composers, presenting concerts and workshops on vocal writing and contemporary Australian repertoire to secondary school music students, tertiary composition and vocal students and their teachers both locally and at interstate institutions as well as offering individual tutoring. For more than two decades, Halcyon has been championing, presenting and recording music for voice and instruments and introducing audiences to this very particular and rich niche of new music. Now directed solely by Jenny Duck-Chong, Halcyon continues to promote vocal chamber music works to a wide audience through concert programs, educational workshops and presentations and the YouTube channel, now featuring video interviews with composers, concert archive footage and audio. A growing number of their commissions and other important Australian works are now available as studio recordings through Tall Poppies, Move, Wirripang and their own self-releases.
To find out more about Halcyon visit www.halcyon.org.au